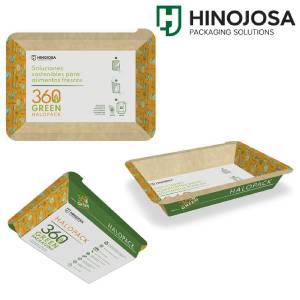 Halopack Octogonal: the new addition to the 360 Green Packaging range for seafood.
Sustainable Packaging Solutions for the Fishing Industry

(SPAIN, 11/10/2021)
Hinojosa's new Halopack® Octogonal design is a key innovation, engineered for fresh products such as sliced salmon, hake loins, and prepared fish, etc.

The design eliminates single-use plastic by up to 75%. Hinojosa is the exclusive manufacturer of this packaging design for Spain and Portugal.

The Octagonal Halopack® is unique as it removes the need for a square tool resulting in minimal impact to production lines. This is beneficial not only to companies but also to the planet as companies can make the switch from plastic trays to carton board trays more easily.
Halopack 360GP is hermetically sealed, so it keeps product freshness and flavour.
Halopack® Octogonal is:

Recyclable: easy-to-separate materials

Recycled: made from up to 70% recycled materials

Up to 80% reduction in plastic consumption

360GP packaging can be disposed of in the blue bin as it is considered as cardboard packaging by Ecoembes.
With Halopack 360GP you will stand out from the crowd printing your tray on all sides.
With Halopack you can:

Print your tray on all sides: whether on the front, the back, the sides… stand out from the crowd by designing your own product.

communicate with your customer: use the QR code to redirect them to your website.

Personalise your display: the company designs your display according to the needs of your on-shelf product.


About Hinojosa

Hinojosa is a leader in the packaging sector. Due to its rapid growth and permanent position at the vanguard of innovation, it is considered one of the most important and financially solvent family-run businesses at the national level.

Hinojosa is made up of 20 companies spread throughout Spain, France and Portugal. Thanks to its Blue Box partnerships, it also has a presence throughout Europe.
Source: Hinojosa
[email protected]
www.seafood.media
Information of the company:
Address:
Ctra. de Simat s/n
City:
Xàtiva
State/ZIP:
Valencia (46800)
Country:
Spain
Phone:
+34 962 289 170
More about: