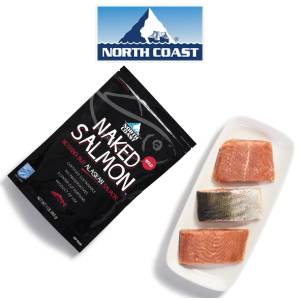 The North Coast story starts and ends with freshness.
Seafood that Keeps you Coming Back for More!

(UNITED STATES, 8/16/2021)
North Coast's fish are locally sourced from communities around the globe, using the sustainable, long-line method of catch. The small boats The company partners with deliver their fish within hours of catch, each and every day.

From the time on water, to how it was caught, to who caught it, to how they took care of it, to the way it was processed, to how it was packaged and transported—North Coast controls it all. The company made its process trackable and verifiable every moment the seafood is in its possession.
North Coast partners with the most dependable, responsible, and expert fishermen in local communities throughout the world.
North Coast has built its business by earning the trust of its customers—one at a time. Everything the company does is based on long-term relationships—from the fishermen they partner with to Chefs and consumers. Freshness is maximized by eliminating middlemen and distributors while controlling each step from boat to delivery.
The majority of North Coast's seafood shipped via ground transport gets loaded by their own people onto the company's trucks driven by the company's associates. This ensures absolute adherence to proper refrigerated/frozen temperatures—from loading through delivery. Every degree above 34° F reduces shelf life by a day, so time and proper handling is crucial to freshness.
North Coast owns and operates its processing facilities, giving absolute control—from the moment the fish arrive at the facilities to the moment it's shipped to their customers.

Local Seafood is ingrained in the history and culture of Massachusetts and New England as a whole. Buying Gulf of Maine seafood means supporting the livelihoods of local fishermen. North Coast's story and its values foster longstanding relationships with fishermen around New England have been forged over generations.
North Coast maximizes freshness by eliminating middlemen and distributors while controlling each step from boat to delivery.

North Coast works closely with the Gulf of Maine Research Institute to sustain the health of the local ecosystems by sourcing verified Responsibly Harvested® species, a program the company has participated in since 2011. These species include: Atlantic Pollock, Ocean Perch, Sea Scallops, Monkfish, Haddock, Mackerel, American Plaice, White Hake, Whiting, and Winter Skate.

North Coast's brands deliver the finest seafood experience, allowing customers to enjoy the best quality every time. The company's brands includ Naked Seafood, Culinary Reserve,Chef's Catch, Naturally Pure and Naked Dog Food.
About North Coast Seafoods

North Coast Seafoods is a Boston, Massachusetts based company committed to providing the highest quality, sustainable seafood.

North Coast Seafoods began as a company focused on shellfish distribution, which brought predictability and dependability to what had been a very unpredictable, undependable industry.
True to its name, Naked is nothing but the finest quality seafood. No chemicals, antibiotics, or preservatives. All Certified Sustainable.

The business thrived, seafood was delivered on time, and the company grew. But there was always the desire to do more—to be a company responsible for bringing people the freshest seafood imaginable—and there was only one way to do it: Control every part of the process, from the fishing boats to the processing facility to the shipping.
North Coast engineered and built two state of the art processing facilities in Boston and New Bedford, with a combined over 120,000 square feet of refrigerated processing, including two full time on-site microbiology labs to guarantee freshness and food safety.
Source: North Coast Seafood
[email protected]
www.seafood.media
Information of the company:
Address:
5 Drydock Avenue
City:
Boston
State/ZIP:
Massachusetts (MA 02210)
Country:
United States
Phone:
+1 (617) 345-4400
Fax:
+1 (617) 345-4434
Skype:
https://www.instagram.com/northcoastseafoods/
More about:
Approval / Accreditation / Certified / Oversight by...