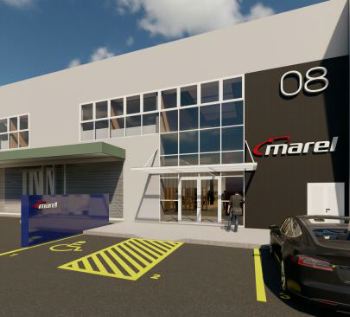 The new demonstration center, together with the new Marel regional office and factory, is located in the Bresco Viracopos Corporate Park in Campinas
Marel opens new office and demo center in Latin America

(BRAZIL, 7/24/2021)
Marel has opened its first Progress Point Demonstration Center in Latin America. This is the company's fifth demonstration center globally, with demonstration centers already operating in Europe and North America.

The new demonstration center, along with Marel's new regional office and factory, is located in the Bresco Viracopos Corporate Park in Campinas, Brazil.

The 4,700 m² facility at Flex Viracopos can accommodate around 130 employees and up to 200 guests. The new location will improve the company's connectivity with Latin American clients, in addition to strengthening its global access.

"In addition to its strategic location, close to one of the main airports in the country, Progress Point has a modern infrastructure for our employees and allows us to expand Marel operations in the region, strengthening our ability to support customers throughout Latin America ", affirms Clausius Nóbrega, Regional Director of Marel in Latin America.


In partnership with our clients

Marel Demonstration Centers bring together Marel food processors and experts to present the full potential of the company's equipment, embedded systems and software in a hands-on environment, with demonstrations, training seminars, ShowHows and other events. live and online.

Demonstrations will focus primarily on stand-alone equipment and simple solutions that can serve the fish, meat and poultry processing industries. Marel has a long history of applying technologies from one industry to another, helping to accelerate the innovation process and increase the competitive advantage of customers.

By opening a demonstration center in the region, Marel strengthens its ability to support small, medium and large processors in Latin America with advanced and automated systems and solutions for every step of the production process. The importance of the Latin American food processing industry is growing, and Marel is proud to be part of this path.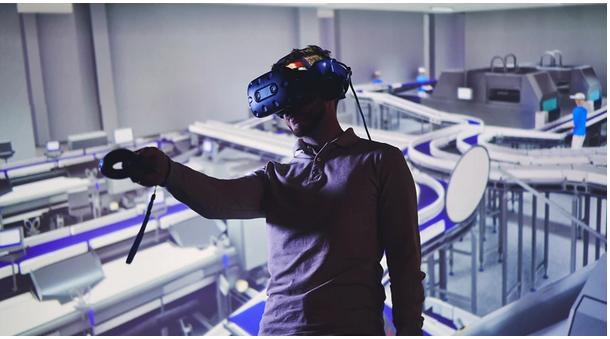 Extended reality capabilities

The new Progress Point features state-of-the-art equipment that simulates realistic conditions, allowing customers to test and develop new products. It also allows for extended reality (XR) demonstrations, combining live and virtual product presentations.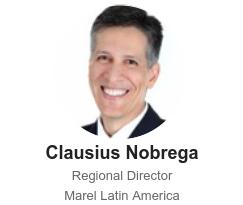 This is Marel's first demo center to feature a virtual reality room, with 3D graphics capabilities. In this innovative space, visitors can use electronic devices, special glasses and sensors, to train, test and analyze the efficiency and flow of the production line.

"With travel restrictions and the need for social distancing due to the pandemic, visits to factories and fairs have become a rarity, and the facilities of our new demonstration center become even more vital for presentations and training on the use of online equipment and software in a controlled factory environment ", highlights Clausius Nobrega.

The virtual training and demonstration center is always ready to go. "We offer a highly interactive online configuration, so that the client can, from the comfort of their home or office, explore our innovative systems, solutions and software", adds the Regional Director.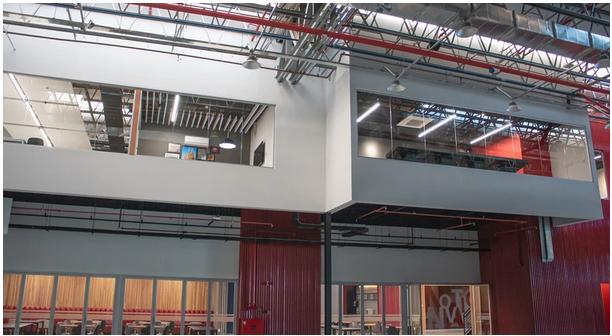 Strategic location

Quality, flexibility and sustainability were considered fundamental points in the selection of the area. Marel needed a location that offered the right facilities and was better suited to its employees and the supply chain.

The Bresco Viracopos Corporate Park was considered the ideal place to satisfy commercial and environmental needs. In addition to the location and complete infrastructure, it has the highest sustainability standards, including public squares surrounded by trees, it maintains an extensive green area with walking paths and bicycle paths that extend to the commercial areas of the place. In addition, it has charging stations for electric cars.

Source: Marel
[email protected]
www.seafood.media
Information of the company:
Address:
Austurhraun 9
City:
Gardabaer
State/ZIP:
(IS-210)
Country:
Iceland
Phone:
+354 563 8000
Fax:
+354 563 8001
E-Mail:

[email protected]

More about: