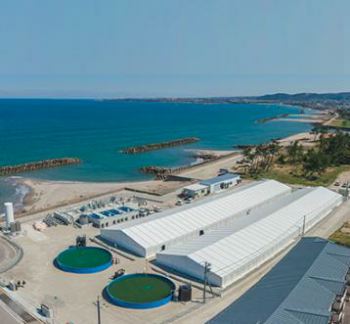 Nissui begins testing large-scale aquaculture recirculation system for Pacific mackerel
Nissui launches inland pacific mackerel aquaculture (RAS)

(JAPAN, 5/11/2020)
Nissui and Yumigahama Suisan Co., Ltd, (a subsidiary of Nissui group located in Sakaiminato City, Tottori Prefecture) will begin a demonstration trial of inland aquaculture for chub mackerel starting later this month. The joint development of both companies, in which Hitachi Zosen provides water treatment technology.
Source: Hitachi Zosen Corporation
By not using open seawater, the goal is to reduce the risk of parasites like Anisakis and fish diseases, and to provide a stable supply of mackerel that is unaffected by the natural environment like typhoons. With a view to marketing in April 2023, the objective is to sell chub mackerel with high added value in terms of safety and quality.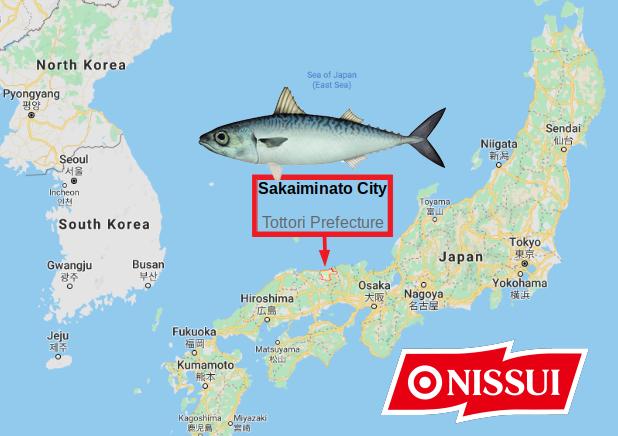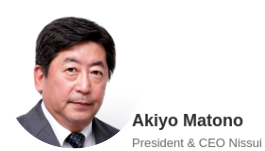 "The fish from these farms will be sold at high unit prices because they can be shipped alive," explains Nissui President Akiyo Matono. "We want to take advantage of this by getting ahead of our rivals as much as possible, even for a year or two. "he added.
Costs are one of the main obstacles for inland fish farming, as they are approximately 20% higher than those of coastal operations, mainly due to the higher costs of water and electricity needed to maintain the adequate temperature.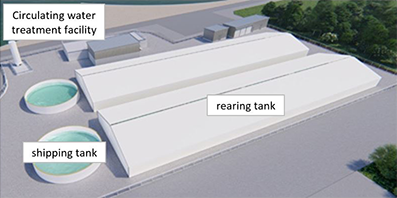 Photo: Nissui/FIS
The issues to be addressed at the testing facility
(i) Increased efficiency of the removal of solids in the breeding waters
Given that solids generated within the system such as uneaten feed and fish feces become factors for deteriorating the quality of the rearing waters, they must be quickly expelled from the system. We hope to increase the efficiency of removing the solids by utilizing Hitachi Zosen's fluid simulation technology (Technology to recreate water flow within the water tanks on the computer).
(ii) Increased efficiency of the nitrification process
The ammonia originating from the fish feces and uneaten feed must be quickly decomposed and removed, as they are high in toxins for the farmed fish. We plan to increase efficiency by applying the nitrification treatment system developed by Hitachi Zosen, which has a long track record of biological treatment of industrial effluent utilizing free-floating filtering media, make the nitrification facility more compact, and reduce initial costs.
(iii) Energy-saving to reduce running costs
The implement energy-saving measures including the development of efficient methods of operating the system and the adoption of operation controls to reduce electricity costs and other running costs.
(iv) Establishment of production technology and aquaculture control technology
Nissui will identify the optimal rearing conditions for the farmed fish (water temperature, water quality, water flow, photoperiod, etc.), develop production technology and control technology capable of controlling such conditions artificially and aim for high aquaculture productivity.

Photo: Nissui/FIS
Through this joint development, Nissui aim to build a competitive land-based aquaculture system through the packaging of the entire system and industrialize land-based recirculation aquaculture in Japan. Through these efforts, We hope to contribute to the stable supply of sustainable marine products.
[email protected]
www.seafood.media
Information of the company:
Address:
Nippon Bldg., 2-6-2, Otemachi
City:
Chiyoda-ku
State/ZIP:
Tokyo (100-8686)
Country:
Japan
Phone:
+81 3 3244 7000
E-Mail:

[email protected]

More about:
Approval / Accreditation / Certified / Oversight by...