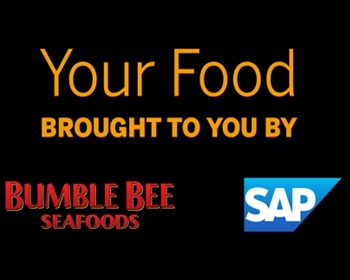 Bumble Bee adopts blockchain for tuna traceability.
Bumble Bee becomes first company to use blockchain platform for tuna tracking

(UNITED STATES, 3/27/2019)
Bumble Bee Foods is now using SAP's blockchain cloud platform to track yellowfin tuna, enabling anglers, buyers, pre-processors and canners to track the movement of fish from origin to packaging via a transparent, real-time supply chain platform.
The blockchain platform allows consumers to scan the QR code and see information on where the fish was caught – and the journey it took on its way to the store.
The new traceability feature using SAP's blockchain is specific to Bumble Bee Foods' Natural Blue by Anova fair-trade certified ahi tuna steaks, which is currently supplied by two companies representing about 5 per cent of the supply chain.
Anova Food is an international fresh fish supplier for retailers and European food services that was acquired by Bumble Bee at the end of 2013.
Bumble Bee pointed out that it is currently onboarding a third tuna provider but eventually plans on placing all of its suppliers on the blockchain, Computerworld reported.
Bumble Bee CIO Tony Costa believes more companies will go the same way as food traceability and transparency becomes more important to suppliers and the public.
Bumble Bee Foods and SAP Create Blockchain to Track Fresh Fish from Ocean to Table
In a Computerworld interview, Costa explained that once they manage to figure out this co-innovation project with SAP, they will be able to focus on the rest of their brands and migrate that to the blockchain technology.
The executive stated that what lead them to adopt blockchain when they were looking at traceability is that it is the perfect use case when talking about tracing a piece of fish from Indonesia to a retail store and providing that information to the consumer.
How blockchain is making your food safer
"We track every piece of fish from the fisherman until we get the finished goods. And when we get the finished goods, we will produce it from the level of an island just to make it more simple. But all that data is still there, for anyone from the fisher all the way to the finish good to user to help drive more efficiency within the supply chain," pointed out Costa.

[email protected]
www.seafood.media
Information of the company:
Address:
Petco Park (formerly Showley Brothers Candy Factory), 900 C St
City:
San Diego
State/ZIP:
California (CA 92101)
Country:
United States
Phone:
+1 858 715 4000
Fax:
+1 858 560 6045
E-Mail:

[email protected]

Skype:
https://www.instagram.com/bumblebeefoods/
More about:
Approval / Accreditation / Certified / Oversight by...