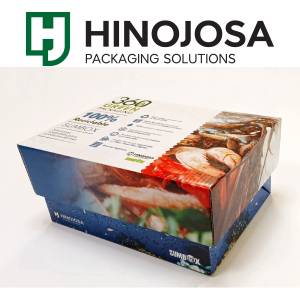 The 360 Green Sumbox.
Hinojosa Presents Latest Offerings in Sustainable Packaging for the Fishing Sector

(SPAIN, 4/21/2023)
Hinojosa Packaging Group, after the success of their participation in 2022, will once again attend the Seafood Expo Global, taking place from 25th to 27th April in Barcelona.
Driven by innovation and an orientation towards the needs and demands set by new consumer trends, the group has a wealth of experience as a producer of packaging for the fishing industry, as well as an extensive team of experts in the development of new innovative solutions for sustainable packaging aimed at the end consumer; comprising the largest combined range of solutions in Europe.
In Barcelona, sustainable packaging for the aquaculture industry will also be exhibited, ranging from 100% recyclable primary packaging, to special designs for the canning industry, and boxes for frozen langoustines.
New solutions that preserve product freshness
360 Green Halopack.
The 360 Green Packaging range will be centrestage at the Seafood 2023 Fair. This line includes sustainable primary packaging Halopack® by Hinojosa, an innovative packaging design for which Hinojosa is the exclusive manufacturer and distributor on the Iberian Peninsula.
It is resistant to freezing, water and high temperatures and is made of cardboard with a fine layer of film.
Moreover, it is made of 70% recycled materials and allows the reduction of single-use plastics by up to 75%.
Hinojosa will also exhibit Sumbox, designed for the transportation of fish and fresh seafood. It is a 100% recyclable packaging design; the box can be deposited directly in the blue container once it has been used.
It is the best sustainable alternative to traditional porex boxes, reducing the carbon footprint by up to 70%.
Sumbox is also waterproof, isothermal, customisable and printable in photographic finish.
Hinojosa renews its commitment to progress towards alternatives that are more environmentally friendly, together with its clients in all sectors, and thus to fulfill the sustainability goals set by the Paris Agreement and the 2030 Agenda.
About Hinojosa Packaging Group
Hinojosa Packaging Group is one of the leading companies in the design and manufacturing of sustainable packaging solutions. With more than 75 years of experience, its model is based on the principles of the circular economy.
Due to constant innovation, customer orientation and the pursuit of excellence, the group has seen continuous growth, experiencing a substantial boost in recent years with its commitment to internationalisation.
The 360 Green Sumbox is100% recyclable, straight into the blue bin (paper/cardboard).
Currently, the company has 2,500 employees and 19 production plants across Spain, Portugal, and France, combining the strength of a global group with a local presence.
The commitment and the work of the company is to generate a positive impact wherever it operates, contributing to the common good. It's not just about manufacturing the best packaging, it's about caring for the world around it.
Source: Hinojosa Packaging Group
[email protected]
www.seafood.media
Information of the company:
Address:
Ctra. de Simat s/n
City:
Xàtiva
State/ZIP:
Valencia (46800)
Country:
Spain
Phone:
+34 962 289 170
More about: