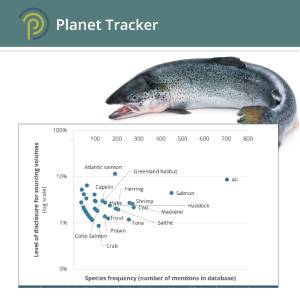 Within the most frequently sold species, Atlantic salmon is the type of seafood with the best volume disclosure by companies in the database.
Planet Tracker Provides Greater Transparency into the Seafood Industry with the Launch of its New Database

(UNITED KINGDOM, 12/12/2022)
Ocean sustainability data is notoriously fragmented and difficult to access and yet it is a critical driver of financial performance, according to the latest report from financial think tank, Planet Tracker.
The report finds that only 8% of the hundred largest seafood companies – both listed and private – disclose the exact seafood species they are invested in for their entire portfolio. This lack of transparency presents a major risk for investors and lenders, preventing an accurate assessment of risk and opportunity.
A majority of listed companies, headquartered in rich countries 84% of these companies are headquartered in Europe or in Asia. Bar a few exceptions, they are heavily skewed to rich countries.
With the objective of promoting greater transparency across the USD 1.8 trillion seafood supply chain – and to consolidate different data sources into one place where they can be examined in context – Planet Tracker is launching its Seafood Database.
This interactive database enables users to filter through companies and compare their exposure to overfishing, illegal fishing and the blue sustainability risks.
The initial sample of 100 corporates have a combination of high revenue – from USD 200 million to USD 15 billion – and a high exposure to seafood. In the coming months, more companies will be added.
Companies engaged in fishing with the highest estimated overfishing risk in the database include Clearwater Seafoods, Grupo Profand, and Royal Greenland. Instead, Brim Hf, Sea Harvest Group and Aker BioMarine display a lower risk.
These companies are not only engaged in upstream (fishing or aquaculture), midstream (processing), or downstream activities (wholesale, retail), but also in auxiliary activities such as fish vaccination, construction of engines for fishing vessels, or the manufacture of fish processing machinery. On average, each company is engaged in three of these businesses, with processing being the most popular.
François Mosnier.
François Mosnier, Head of Oceans Programme at Planet Tracker, comments: "Companies that do not have granular data in species exposure and harvesting locations are unlikely to be aligned with the Taskforce on Nature-related Financial Disclosures (TNFD) framework. We estimate that over half of the companies we assessed are not TNFD-ready based on the information they fail to provide.
"The absence of data is often blamed on the suppliers' inability to provide it and the associated costs of retrieving it, but there are potential financial benefits associated with increased disclosure that companies must not overlook."
Planet Tracker calls on financial institutions to demand greater supply chain transparency from seafood-exposed companies. This means asking corporates to disclose:
'What' – the scientific names of the species they are invested in;

'Where' – the exact location of farming and capture;

'How' – the fishing gear and farming method used.
Using Planet Tracker's Seafood Database, you can identify to what extent companies are exposed to overfishing, illegal fishing, and many other ocean sustainability risks, and compare their environmental health with their financial health.
Such disclosure can be done via the Ocean Disclosure Project, or directly via the Planet Tracker database.
This latest report, No More Sailing in the Dark, builds on past research by Planet Tracker into seafood traceability and transparency, including How to Trace $600 billion, Traceable Returns and Implementing Traceability – Seeing through Excuses.
About Planet Tracker
Planet Tracker
is a non-profit financial think tank producing analytics and reports to align capital markets with planetary boundaries. Its mission is to create significant and irreversible transformation of global financial activities by 2030. By informing, enabling and mobilising the transformative power of capital markets Planet Tracker aims to deliver a financial system that is fully aligned with a net-zero, nature-positive economy. Planet Tracker proactively engages with financial institutions to drive change in their investment strategies. Planet Tracker ensures they know exactly what risk is built into their investments and identify opportunities from funding the systems transformations they advocate.
About Seafood Tracker
Seafood Tracker investigates the impact that financial institutions can have on sustainable corporate practices through their funding of publicly listed wild-catch and aquaculture companies. Seafood Tracker aim is to align capital markets with the sustainable management of ocean and coastal marine resources.
Seafood Tracker is a part of the wider Planet Tracker Group of Initiatives.
[email protected]
www.seafood.media
Information of the company:
Address:
4th Floor, The Conduit, 6 Langley Street
City:
London
State/ZIP:
(WC2H 9JA)
Country:
United Kingdom
E-Mail:

[email protected]

More about: