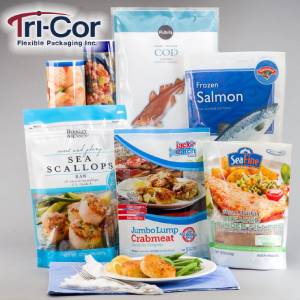 Enhance your consumer's brand experience.
Catch More Customers with your Sustainable Seafood Packaging

(UNITED STATES, 2/16/2022)
Seafood packaging requires a sophisticated solution with a focus on eye-catching graphics. Whether you're packaging fresh salmon or frozen seafood like fish fillet, Tri-Cor has a solution for your packaging challenge.
Stand-Up Zipper Pouches.
From concept to design to delivery, the company understands your applications and apply its extensive knowledge to provide only the highest quality packaging products to the marketplace.
Tri-Cor's printing speaks for itself with attention-getting graphics.
Pouches and laminated rollstock can be printed in up to 10 colors, on convenient zipper and slider or lnno-lok® features for exceptional consumer appeal.
The company's Digital Print Solutions offer the advantage of shorter runs without compromising print quality.
With digital solutions using multiple HP Indigo 6900 Digital Presses, print runs can be from ten impressions to thousands with quality that exceeds rotogravure printing.
Digital printing features include:
• On-Demand / JIT
• Quick Turnaround
• Perfect Registration
• No Plates Required
• Variable Data Printing
• Unmatched Print Quality
Laminated Rollstock.
Tri-Cor's stand-Up Zipper Pouches for Seafood Packaging Enhance your consumer's brand experience.
Stand-up pouches offer seafood processors competitive alternatives to carton packaging.
For a stand-out presentation in the frozen section, the company offers the Laminated Rollstock. Choose high-impact printed rollstock, available in a multitude of film structures.
Instant Quick Freeze Film (IQF) are coextruded films providing solutions to help enhance shelf life and increase freshness.
Tri-Cor engineers films to control moisture and oxygen properties, tear requirements, and sealing characteristics. The company's films meet the highest standard of quality and consistency.
About Tri-Cor Flexible Packaging, Inc.

Tri-Cor Flexible Packaging Inc. is a leader in providing innovative packaging solutions and materials. The company serves a wide range of industries including food, pharmaceutical, agricultural, chemical, building materials, textile, plastic molding, and many more. Tri-Cor combines its broad product line with outstanding personal service, superior quality, competitive pricing and on time delivery.
Instant Quick Freeze Film.
Industrial companies choose Tri-Cor for the strong polyethylene films, stretch wrap, plastic bags, pallet covers and box and drum liners that keep products fresh, clean and sanitary. For retail product manufacturers, Tri-Cor helps them stand out with attractive graphics and packaging solutions like reclosable poly bags, laminated stand-up pouches, metalized films, and form fill & seal rollstock that protect products and extend shelf life.
Source: Tri-Cor

[email protected]
www.seafood.media
Information of the company:
Address:
27 Brookfield Dr, Sparta
City:
Sparta
State/ZIP:
New Jersey (NJ 07871)
Country:
United States
Phone:
+1 973-940-1500
E-Mail:

[email protected]

More about: