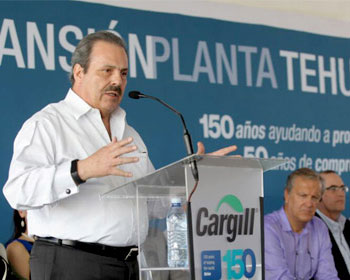 Launching ceremony of Cargill new plant. (Photo: Sagarpa)
Cargill invests USD 8 million in new fish feed plant

(MEXICO, 2/26/2015)
The Secretary of Agriculture, Livestock, Rural Development, Fisheries and Food, Enrique Martinez y Martinez, and the governor of Puebla, Rafael Moreno Valle, have launched Nutripec, a formulated fish feed production plant, installed in Tehuacan by Cargill.
With an investment of MXN 120 million (USD 8 million), the agribusiness company increases its production capacity to 60,000 tonnes per year, with the new production line to meet the demand of food for catfish, trout and tilapia in Puebla, Oaxaca, Veracruz, Chiapas and Yucatan Peninsula aquaculture.
In the event, the head of SAGARPA said that the National Government supports and promotes socially responsible companies and promotes investments that create synergy with programs to boost productivity and competitiveness.
He explained that the opening of this plant (settled in a complex which also produces inputs for poultry, pork and cattle) besides being rewarding, it also means producing 60,000 tonnes of fish food for aquaculture units, in a country where 70 per cent of shrimp production is performed in farms.
Gov. Moreno Valle recognized the change vision of the federal government to transform and diversify activities in agriculture and fisheries, encouraging productive restructuring schemes to serve what markets demand.
For its part, Cargill's Mexico and Central America CEO, Gerardo Quintero, and the president of the company in Mexico, Marcelo Martins, emphasized the fact that Sagarpa promotes aquaculture in Mexico, as it is a source of animal protein and contributes to food security.
They informed that the plant expansion of Tehuacan will reach a monthly output of 19,000 tonnes of feed for poultry, pork, cattle and from now on, for fish too, representing 21 per cent of its global production and the generation of 800 direct jobs.
This plant, they added, is an integral part of the expansion plan of the company with an investment of MXN 240 million (USD 16 million) to meet the demand for fish food in Mexico and Central America, through strategic alliances with fish farms.

[email protected]
www.seafood.media

Information of the company:
Address:
P.O. Box 5614
City:
Minneapolis
State/ZIP:
Minnesota (MN 55440)
Country:
United States
Phone:
+1 952 742 4195
Fax:
+1 952 984 1421
E-Mail:

[email protected]

More about:
Approval / Accreditation / Certified / Oversight by...