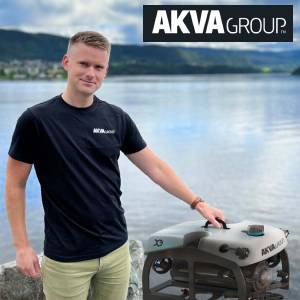 Åsmund Sundsvalen, General Manager of AKVA Group Sperre ROV Technology, showcases the mini-fighter prototype. Photo: AKVA group.
New ROV with Cost-effective Net Inspections

(NORWAY, 9/1/2023)
AKVA group Sperre ROV Technology, based in Notodden, Norway, has revealed their latest addition to the remotely operated vehicle (ROV) lineup. Introducing the mini-fighter, a lightweight and hand-operated ROV weighing approximately 30-35 kg, designed to complement their existing ROV portfolio. With its versatility and easy deployment, the mini-fighter aims to fulfill the increasing need for a compact yet powerful ROV capable of cost-effective net inspections.

"The industry's response has been positive, highlighting the need for a small yet powerful ROV capable of efficiently conducting net inspections," says Åsmund Sundsvalen, General Manager at AKVA group Sperre ROV Technology.

"By offering a cost-effective solution, AKVA group aims to provide fish farmers with a more affordable option, particularly when it comes to replacing and servicing thrusters. We look forward to showcasing the mini-fighter prototype at Aqua Nor on 22-24 August and making it available for sale in March 2024."
The mini-fighter prototype at Aqua Nor 2023. Photo: AKVA group.
Designed for observation

The mini-fighter eliminates the requirement for specialized equipment or heavy machinery. It is designed for observation purposes and can be equipped with a simple gripper arm for retrieving lost items in pens.

"I am very excited about the mini-fighter. It can conduct thorough inspections of nets, checking for damages or breaches, as well as inspecting other components such as locking pins and ropes."

Controlling the mini-fighter is made with a user-friendly interface typically located on a service boat. Existing customers who already use AKVA group's systems can seamlessly integrate the mini-fighter into their operations without the need for additional hardware. The ROV requires a topside control station where the pilot sits and operates the ROV using advanced data systems.
General Manager Åsmund Sundsvalen in front of the AKVA Group Sperre ROV Technology office. Photo: AKVA group.
Integrates with the existing control systems

Equipped with vectorized thrusters, the mini-fighter offers enhanced manoeuvrability underwater. The mini-fighter can be integrated with the control systems currently used by customers relying on the FNC net washing system. For customers who do not possess a ROV, the mini-fighter integrates smoothly with AKVA group's control systems.

"We have also made improvements to our FNC net cleaning system," adds Sundsvalen. "The redesigned washing discs now offer an extended lifespan, effectively doubling their durability and enhancing the overall performance of the system."
High demand of ROV with drilling machine
To watch AKVA group - ROV systems & net cleaning video
click here
.
In recent years, AKVA group has sold several variations of ROVs, and the demand has particularly been high for ROVs with drilling capabilities. Such ROVs are designed to bore holes for T-bolts that secure the pens used in fish farming. This remotely operated drilling system is capable of boring holes with a diameter of 60-70 mm and a depth of approximately 60-70 cm.

"The drilling machine can be used on 15k ROVs, 30k ROVs, and larger ROVs. It can be removed, allowing for the attachment of other tools, such as cutters or angle grinders, to perform additional tasks like cutting steel chains and shackles," says Sundsvalen.
About AKVA group
AKVA group is the world's largest supplier of solutions and services to global aquaculture. Driven by passion, commitment and a deep understanding of the complexity in our industry, AKVA can solve the most advanced challenges at sea and on land, and contribute in making aquaculture more sustainable.
AKVA provides solutions and services, from single components and products to full production performance solutions.
The will to pioneer a better future has been the driving force for AKVA group since its inception in Norway over 40 years ago. AKVA is present in all the world's markets with offices in 11 countries and employees from 39 nationalities.
Source: AKVA group

[email protected]
www.seafood.media
Information of the company:
Address:
Nordlysveien 4 - PO Box 271
City:
Bryne
State/ZIP:
(NO-4349)
Country:
Norway
Phone:
+47 51 778 500
Fax:
+47 51 778 501
E-Mail:

[email protected]

Skype:
https://www.instagram.com/akva_group/
More about: