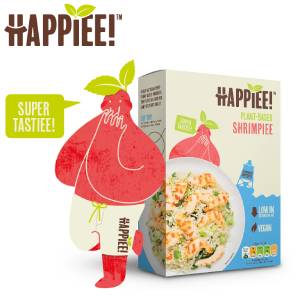 Happiee! plant-based seafood range is now available in Ocado and Tesco supermarkets.
Singapore's Happiee! Brand Enters UK Market

(UNITED KINGDOM, 8/25/2023)
Happiee!, a Singapore-based brand has expanded into the international market introducing its frozen seafood and meat analogs in the United Kingdom. The frozen product range is already available in Ocado and it will be available in 345 Tesco stores nationwide from September. More products will be launched in January 2024.
Happiee!'s frozen range includes Breaded Calamariee Rings, Breaded Shrimpiee, Shrimpiee and Squidiee Rings, and one meat analog: Lamb Shawarma, plant based strips with all the flavour and fragrance of traditional Shawarma.​
All the products are GMO, cholesterol and additives-free, high in fibre, and low in calories. The company uses konjac flour for its fish products and soy, potato, or wheat protein for both alternatives. All the produts are low-fat and soy-free; using tapioca, konjac flour and potato starch.
Happiee! range of plant-based seafood alternatives, carefully crafted with love and respect for the Earth.
The squid and shrimp plant-based products come in both plain and breaded formats, effortlessly transforming dishes like stir-fries, curries, ramen, paellas, and pasta. Versatility is key, and both products are quick and easy to cook, carry flavours well, and handle pan and air-frying with ease. The breaded options, with their light golden crumb, bring a crispy snacking experience that's perfect for dipping and impressing at family feasts and parties.
"This isn't just another burger or sausage on the meat-free shelf; it's an innovative step forward," said Rosie Bambaji, commercial manager for Happiee!. "We are proud that consumers can buy authentic seafood alternatives without it costing them more than their seafood counterparts".
Happie!'s products range meets the demand of a growing sector offering an opportunity to enjoy a plant-based seafood or meat alternative.
"Our aim is to foster a continued shift towards eco-friendly choices, reducing our dependence on the seas for a sustainable future," added Bambaji. "We're on a mission to bring genuine change to the category, filling in the gaps so that flexitarians and vegetarians aren't missing out on their favourite dishes and cuisines."
"We're excited to offer a product which meets not only the demand of the growing sector but also offers everyone an opportunity to enjoy a plant-based seafood or meat alternative that doesn't compromise taste or texture," said the company on social media.
The

products are GMO, cholesterol and additives-free, high in fibre, and low in calories.
About Happiee!
Happiee! is a Growthwell company. Based in Singapore, Growthwell Foods is a plant-based nutrition company for Asian palates. The company's mission is toTo nourish 1 billion lives with accessible and affordable plant-based alternatives.
Infusing its vibrant food cultures with plant-based innovation, Growthwell is making a nutritious, more sustainable food system — one that respects the body, culinary traditions, and the planet — one plate at a time.
Source: Happiee!
[email protected]
www.seafood.media
Information of the company:
Address:
15 Senoko Drive #03-07/08
City:
Singapore
State/ZIP:
(758202)
Country:
Singapore
E-Mail:

[email protected]

Skype:
https://www.instagram
More about: