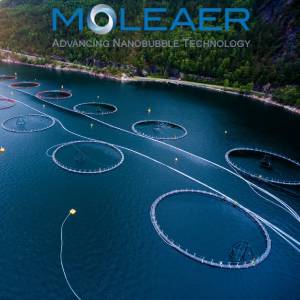 Nanobubbles allow fish farmers to reduce chemical and pharmaceutical applications.
Moleaer Expands into Norway to Support Sustainable Aquaculture

(UNITED STATES, 8/21/2023)
Moleaer, a global leader in nanobubble technology, has formed a new Company in Norway named Moleaer AS to bring sustainable nanobubble solutions to one of the world's largest marine fishery and aquaculture production markets.
With stricter aquaculture regulations, a higher emphasis on environmentally sound practices, and rising input costs, Norway's aquaculture industry is searching for cost-effective, sustainable and chemical-free tools to enhance environmental stewardship while supporting increased production. Moleaer's nanobubble technology helps fish farmers lower their oxygen and water treatment costs, reduce their environmental impact and improve fish welfare.
Nick Dyner.
"Moleaer is proud to open this new office in Norway to bring our market-leading nanobubble systems closer to our key aquaculture customers. Fish farmers who have used our solutions have seen reduced oxygen and energy costs, less chemical and pharmaceutical consumption, and improved production in their on-shore and off-shore growing facilities," said Nick Dyner, CEO of Moleaer.
"By leveraging the unique properties and benefits of oxygen nanobubbles, farmers can reach their sustainability goals while also producing more food at less cost for a growing population."
Moleaer has also announced a newly formed partnership with TESS to offer the Company's products and solutions along with their Nanobubble generators to fish farmers in Norway. Through this relationship, Moleaer's technology has been supplied for effective oxygenation and to ensure fish welfare during crowding operations on delicing and wellboat vessels. The benefits are allowing Norwegian farmers to save on oxygen and energy costs and reduce fish mortality rates.
Moleaer nanobubble technology delivers unparalleled improvements in aquaculture, including oxygen transfer efficiency, rearing water quality, and feed conversion ratios at the lowest total cost.
"TESS is excited to deliver this important technology to customers that wants both the best and the most innovative solutions that can add value to a rapidly growing industry," states Elias Rasmussen, Sales Director at TESS. "Farmers have already expressed great interest in Moleaer nanobubble generators due to existing inefficient oxygenation technologies. Effective solutions like Moleaer's nanobubble generators are a high priority to overcome these challenges."
TESS will be exhibiting Moleaer's technology at AquaNor, August 22 through 24 in Trondheim, Norway. Their stand is D-349.

About Moleaer
Moleaer is the global leader in nanobubble technology with a mission to do more using less water. By deploying the power of nanobubbles, the company enhances and improves the performance and productivity of many of the world's most critical industrial processes. Its proprietary nanobubble technology unlocks the power of water to help farmers grow more food, empowers businesses to manage water more effectively and efficiently, and restores aquatic ecosystems sustainably without chemicals
Moleaer has deployed more than 2,400 nanobubble generator installations in more than 52 countries. The generators inject nanobubbles ― 2,500 times smaller than a grain of salt ― that supersaturate the water with oxygen or other gases, form mild oxidants for disinfection, and increase water's ability to permeate soil and rock.
Moleaer's patented nanobubble technology provides the highest oxygen transfer rate in the industry at >85% and is a cost-effective, chemical-free solution proven to increase sustainable food production through better plant health and heat tolerance, reduce the use of chemicals across water-based industrial processes including the food value chain, restore aquatic ecosystems, and improve natural resource recovery.
Source: Moleaer
[email protected]
www.seafood.media
Information of the company:
Address:
20800 Belshaw Ave
City:
Carson
State/ZIP:
California (90746)
Country:
United States
Skype:
http://www.instagram.com/moleaer/
More about: