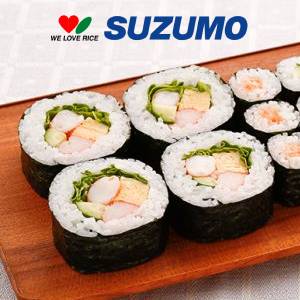 Suzumo has shaken up the conventional wisdom in the world of sushi.
Suzumo Presented Labor Saving Sushi Robots

(JAPAN, 4/24/2023)
Suzumo Kiko, a sushi robot manufacturer and rice processing machine company, held the "Suzumo Fair 2023 Tokyo" on April 18th and 19th, 2023 in Tokyo.

At the fair, Suzumo proposed ways to save labor and improve work efficiency by using Suzumo Kiko's products. Suzumo exhibited next-generation store creation through collaboration between PLEN Robotics, a service robot, and UGO, a business DX robot, showing that the future labor-saving store can be realized by having robots perform everything from reception to seating, guidance, cooking, serving and accounting.
UGO, the business DX robot.
The latest sushi robot S-Cube attracted the most attention at this year's fair. So far, Suzumo Machinery has developed robots for large-scale sushi restaurants, but S-Cube is expected to be introduced to smaller restaurants. It weighs 15kg and is compact and easy to store, it also has a design that makes it look cool even if the kitchen is visible from thecustomers. Still under development, the S-Cube is going to be released next year, and overseas expansion is also being considered.
With Suzumo machines there is no need for intensive training or specialized chefs.
The SVS-FCA for manufacturing rice sheets is a popular robot in Europe and overseas. Overseas, the demand for sushi rolls is higher than for nigiri sushi, and this product, which can make flat rice sheets at regular intervals, is highly valued. SVS-FCA can make two rice sheets at the same time, and it can be set so that when two sheets are taken, the next sheet is automatically made.
The latest sushi robot S-Cube from Suzumo.
GST-RRA, the latest model of the rice serving robot Fuwarica, is equipped with a display on the top of the machine and features a stylish exterior. The hopper can hold a large amount of rice, about 3.3 liters, and has excellent heat retention, making it possible to provide rice that looks like it is freshly cooked. In addition, the LED light emitted on the front of the robot changes color from blue to yellow and yellow to red depending on the amount of rice remaining, making it easy to check even from a distance. Since it is designed not to operate unless a container is placed, it can be expected to be useful in hotel buffets.
GST-RRA, the latest model of the rice serving robot Fuwarica.
The exhibited IoT x ESS-MSA rice ball line, realizes visualization of work and improvement of on-site support capabilities. In addition, as a new proposal, includes the production of jumbo hand-rolled rice balls, which are popular in Korea. Another selling point is the newly developed granulated sheet that provides a delicious texture.

In addition, at the fair, there was an exhibition corner for affiliated companies, and an exhibition of the SUZUMO Instagram Award 2022, which announced the best three likes from the original menu supervised by the food stylist posted on Suzumo Kiko's Instagram. In addition, Suzumo Kiko will be held at Tokyo Big Sight from May 10, 2023 at "Welfare Expo/General Affairs, Human Resources, Accounting Week" (sponsored by RX Japan) and from June 6 at Tokyo Big Sight. Suzumo plans to exhibit at "Fooma Japan 2023" (sponsored by the Japan Food Machinery Manufacturers Association).
Suzumo nigiri robot.
About Suzumo Kiko
As the innovator that created the world's first Sushi Robot,
Suzumo Kiko
has worked to support its customers' efforts in the food business and raise awareness around the world about the pleasures of Japanese food culture. Suzumo delivers its products worldwide in partnership with dealers in several countries.
Source: Suzumo/Eventbiz
[email protected]
www.seafood.media
Information of the company:
Address:
Ohashi Gyoen Bldg., 2-3-15 Shinjuku
City:
Tokyo
State/ZIP:
(160-0022)
Country:
Japan
Phone:
+81 3-3356-1276
Fax:
+81 3-3356-1210
E-Mail:

[email protected]

More about: