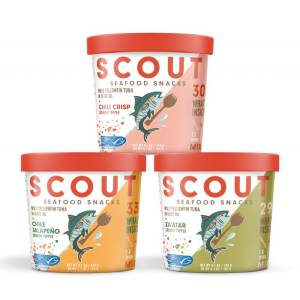 Scout sources both its MSC-certified albacore tuna and yellowfin tuna from the Pacific.
Scout Launches New Seafood Snacks Inspired by Trending International Taste Profiles

(CANADA, 4/12/2023)
Scout, the leader in deliciously chef-crafted seafood, is making a big splash with its launch of Scout Seafood Snacks. The new and innovative product line arrives as the tinned fish category is at an all time high.
Created by acclaimed chef and brand founder Chef Charlotte Langley, Scout Seafood Snacks are inspired by trending international taste profiles. Each kit features a can of wild yellowfin tuna in olive oil, a crunchy topper mix-in, and a spork for a deliciously satisfying snack that boasts up to 33 grams of high quality protein on the go. The DIY kit is fun and convenient, with an open-and-eat design and zero waste packaging that stands out in the set.
With up to 33g of clean protein, Scout Seafood Snacks make a perfect mid-day snack, fuel before or after a workout, or a flavourful upgrade to a sandwich or salad.
"Our new Seafood Snacks feature toppers packaged separately from responsibly sourced yellowfin tuna to bring instant flavor, intensity, texture, and color. This is a new innovation in the canned seafood category and makes this new product line highly craveable and snackable,," said Adam Bent, CEO and co-founder of Scout. "We're offering wider audiences a gateway into sustainable seafood and an introduction into the broader Scout portfolio through our new snacks, which were designed with the sourcing, quality, and brand standards that Scout is built on."
Scout's mixture of chili peppers, spices, and aromatics imparts a balance of heat, umami, and fruitiness. The dried, crunchy chili crisp topper is a perfect pairing with the yellowfin tuna.
Scout Seafood Snacks is currently rolling out across Amazon, select Whole Foods Markets, Thrive Market, Sprouts, Meijer, and the company's website. The exciting, new product line is coming in hot with three crunchy flavors:
Chili Crisp: a spicy, savory, and slightly sweet mixture of chili peppers, spices, and aromatics inspired by the popular Chinese condiment
Za'atar: a beautiful and bright blend of spices with a storied history of enhancing flavor, fragrance, and texture across the Middle East and beyond
Scout Seafood Snacks combine responsibly-sourced wild yellowfin tuna with a variety of bold, vibrant, and delicious crunchy toppers, offering a unique way to experience seafood on the go.
The wild yellowfin tuna used in Scout's Seafood Snacks is sourced in Mexico from its vertically integrated cannery partner committed to reducing bycatch and paying fair wages.
About Scout
Scout is crafting the future of tinned fish. With more than 20 years of celebrated experience in Canada's culinary scene, acclaimed chef and brand founder Charlotte Langley brings big flavor to every Scout recipe with carefully selected species, oils, herbs, and spices. Scout makes deliciously crafted seafood, hand-cut, hand-packed, and canned for convenience and culinary enjoyment.

The company is committed to protecting the earth's oceans and waterways while purveying the highest quality possible by working closely with small fisheries and sustainable farms. Scout is a certified B Corporation, a proud member of 1% for the Planet, and Marine Stewardship Council (MSC) certified.
Source: Scout

[email protected]
www.seafood.media
Information of the company:
Address:
627 Richmond Street West
City:
Toronto
State/ZIP:
Ontario (M6J 1C2)
Country:
Canada
E-Mail:

[email protected]

Skype:
https://www.instagram.com/scoutcanning/?hl=en
More about: