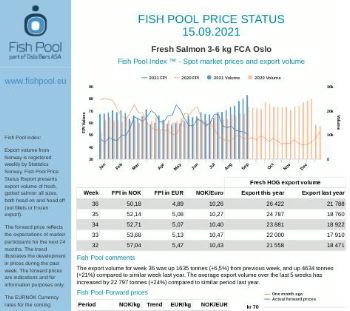 Fish Pool is an international commodity exchange located in Bergen
Fish Pool Salmon Price Status Report for week 37

NORWAY
Thursday, September 16, 2021, 07:00 (GMT + 9)
The export volume for week 36 was up 1635 tonnes (+6,5%) from previous week, and up 4634 tonnes (+21%) compared to similar week last year. The average export volume over the last 5 weeks has increased by 22 797 tonnes (+24%) compared to similar period last year, reports Fish Pool ASA.


Fish Pool forward prices
The forward prices reflect the expectations of Fish Pool members for the next 24 months. The prices are evaluated by the contracts that have been entered into, and by the interest to buy or sell in Fish Pool, and are only indicative.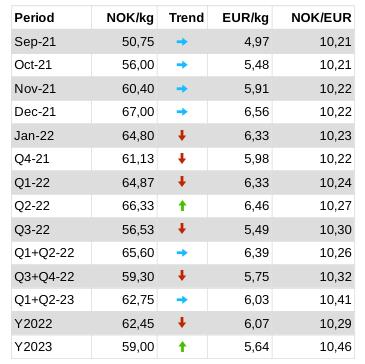 Fish Pool comments
Oct21 traded multiple times at 56,00, current buyer at 55,00. Oct21 - Mar22 buyer now at 61,85.
Nov21 buyer now at 58,00.
Dec-21 buyer now at 65,00 vs 67,00 seller.
Jan22 Seller now at 65,00 (Last traded).
Mar22 traded at 65,00.
Apr22 traded at 65,00. FY2022 buyer now at 62,00 vs 63,00 seller
[email protected]
www.seafood.media