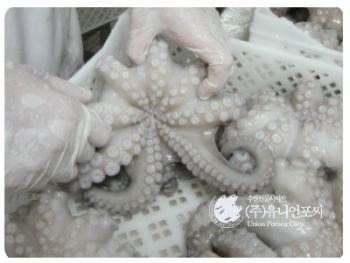 Photo: Union Forsea Corp.
Korean frozen octopus imports increased by 77% over the previous year

SOUTH KOREA
Friday, June 02, 2023, 07:00 (GMT + 9)
Frozen octopus imported in April 2023 was 176 tons, down 11% from 197 tons in the same period last year.
The total import volume till April was 1,241 tons, a 77% increase from 702 tons in the previous year.
Frozen octopus accounts for 0.5% of the total seafood volume of 370,228 tons.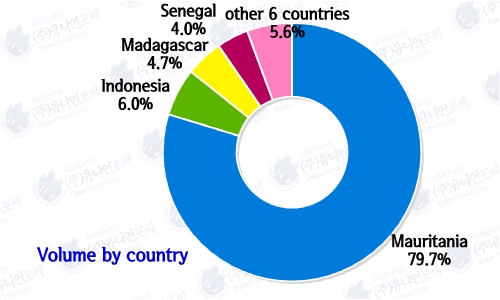 Until April, 1,003 tons of frozen octopus were imported from Mauritania, representing 80% of the total volume, 75 tons from Indonesia, 59 tons from Madagascar, and 50 tons from Senegal.
As for the import unit price by country, Mauritania had the highest price at USD 9.45/Kg, followed by Indonesia at USD 5.95/Kg, Madagascar at USD 6.51/Kg, and Senegal at USD 4.04/Kg.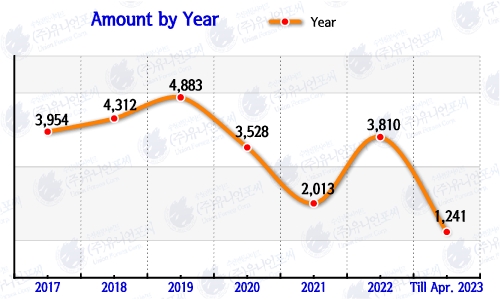 The average import unit price was USD 9.57/kg, down 18% from USD 11.61/kg in the previous year.
The amount of imports in April was USD 1.68 million, a decrease of 26% from the previous year's USD 2.28 million, and the import amount until April was USD 10.9 million, a 49% increase from the previous year's USD 7.3 million.
Souce : Union Forsea Corp.

[email protected]
www.seafood.media