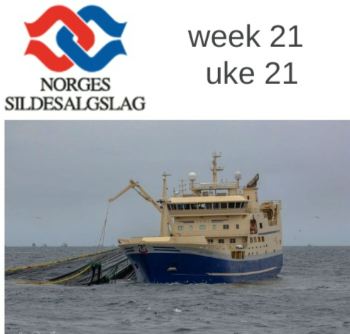 Image: Norges Sildesalgslag /FIS
The Norwegian Pelagic Fishing Course in Week 21

NORWAY
Wednesday, May 31, 2023, 01:00 (GMT + 9)
Varying North Sea herring, small sandeel and good blue whitingf ishing in the "edge"
North Sea herring:

Fishing for North Sea herring has been variable so far in the season. The registration journal shows 5,875 tonnes now in week 21, most of which has gone to consumption. Fishing has ceased west of Bergen at Vikingbanken and Oseberg. The average size of the herring has increased from 130 to 165 grams.
16 vessels have delivered herring in the past week and there is a fleet of ¨17-18 vessels on the field now. So far this year, around 11,000 tonnes of the quota of 115,000 tonnes have been fished. Last year, when we had record fishing for North Sea herring in May, we had a whopping 26,500 tonnes of herring in week 21 and 34,000 tonnes the week before that. We expect the fishing to pick up in June when more boats will start fishing for North Sea herring
Blue whiting:

It has been good blue whiting fishing for the fleet which operates out on the "edge" of the North Sea with up to 200 tonnes for the day. 6 vessels have been active, with a total of 2,175 tonnes reported to Norges Sildesalgslag.
In addition to blue whiting, 238 tonnes of herring and 232 tonnes of norwegian pout have also been fished from the fleet in the North Sea.
Sandeel:

This week has also been marked by poor fishing. Most of the total of 2,680 tonnes was taken on Monday, and a full 1,600 tonnes of the total was delivered by a foreign vessel. So far in the season, 13,800 tonnes of the Norwegian quota of 60,000 tonnes have been taken. There are now 5-7 boats on the fields in the south of the North Sea and it has been easy to find two-fish over larger areas.
Mackerel:

47 tonnes of marckerel for fresh use are locked from Bergen in the north to Ryfylke. The mackerel has varied in size from 300 to a fine 500 grams. In addition, we have had a small coastal sprat catch of 5 tonnes
Author/Source: Roar Bjånesøy / Norges Sildesalgslag (translated from original in norwegian)
[email protected]
www.seafood.media