Image: ASEAN / FIS
Shrimp industry enterprises face difficulties because of vague data on good seed
VIET NAM
Monday, May 29, 2023, 02:00 (GMT + 9)
Large enterprises in the shrimp industry all think that seed is a hot issue today, it is necessary to have accurate and frank data for specific planning, especially in the context of harsh market competition pressure.
At the seminar "For a sustainable shrimp industry" with the participation of many leading shrimp exporters of Vietnam, held in Ho Chi Minh City, on the afternoon of May 24, The Vietnam Association of Seafood Exporters and Producers (VASEP) said that this year's export target of the seafood industry with a turnover of 10 billion USD will be difficult to achieve.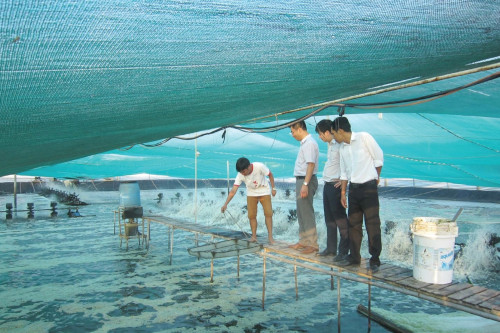 Photo: Consosukien
By the end of April 2023, seafood exports had only reached over $2.6 billion, 31% lower than the same period in 2022. The reason was due to the decline in inflation and consumption in these countries. The demand for seafood imports dropped sharply, putting seafood businesses under heavy pressure because the consumption market plummeted.
"Export prices dropped sharply while domestic production and processing were burdened with high production costs, especially feed, seed and other basic costs," said Mr. Hoe.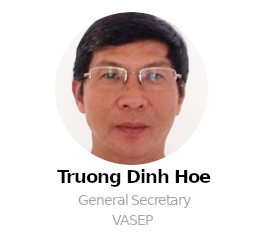 From the perspective of the processor, VASEP Secretary General said that Vietnam has a very large shrimp hatchery production base, however, out of more than 2,000 hatcheries, only more than half of the hatcheries are qualified and certified. Issue certificate.
"In fact, there are many shrimp seed establishments that do not meet the standards for farming and production according to regulations, but still put the source of unqualified shrimp seed into farming. This will affect the output and quality of exports. The issue of traceability for shrimp seed needs to be taken care of, to ensure a quality shrimp source." says Mr. Truong Dinh Hoe, General Secretary of VASEP
Agreeing with Mr. Hoe's opinion, Mr. Nguyen Hoang Anh, Chairman of Binh Thuan Shrimp Seed Association, Chairman of South Central Group, said that there are 3 problems posed by the shrimp industry at the moment: How to improve high success rate in shrimp farming with the current situation; well control the quality and cost of products in shrimp farming; manage and control standards, quality and value of Vietnamese shrimp.
Talking about shrimp seed, Mr. Hoang Anh said, there is still an abstract process with profitable shrimp seed. In fact, the value ratio of shrimp seed accounts for only 5-7% of the cost in a successful farming crop, but it determines many tens of % in the success of a farming crop.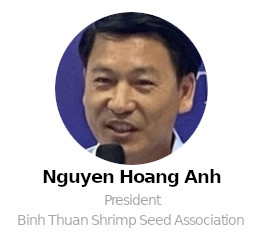 "Currently, the report on Vietnam's shrimp seed is not correct, the statistics are not correct, leading to everyone looking in the clouds. Everywhere it is said that proactive seed production is good, but why is the shrimp industry not good? That's the question. As a result, we are wrong from the number of shrimp seed, to the identification of shrimp seed production. From there, the planning is not correct, the planning is rampant.". says Mr. Nguyen Hoang Anh, Chairman of Binh Thuan Shrimp Seed Association
Sharing from his own business, Mr. Hoang Anh said, Southern Central Fisheries Investment Co., Ltd specializes in producing shrimp seed, but for 3 years now it has to make up for losses from other activities.
"Every enterprise wants to take the initiative to breed shrimp, but not every region of Vietnam has a natural advantage in seed production. It is advisable to focus on regions with strengths" - Mr. Hoang Anh emphasized.
Mr. Ho Quoc Luc, Chairman of the Board of Directors of Sao Ta Food Joint Stock Company, the most basic issue today for breeding stock is to improve the success rate of breeding.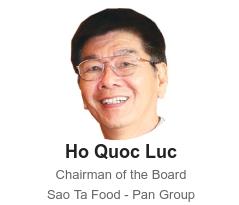 "The hatcheries must ensure that the seed is disease-free and the authorities must control the low-quality shrimp seed that does not "float" in the market. It is not difficult to put difficulties for the seed supply chain, but now the role of seed has become too important", Mr. Luc stated.
According to Mr. Luc, shrimp farming is facing difficulties. The first difficulty is early infection of shrimp. Many analyzes show that, unlike before, shrimp can get diseases from broodstock.
"Thereby reducing the success rate of farming, and farmers are reluctant to release the seeds. Immediately after that, the price of commercial shrimp dropped sharply, possibly up to 30%, which means that it exceeds the profit level if the crop is successful, which means that the average harvest of shrimp is sure to hold the loss. If there is a loss, who dares to raise, who dares to invest in farming households, making small farmers more deadlocked", emphasized Chairman of Sao Ta Food Joint Stock Company.
Another development from the world market's difficulties shared by Mr. Ho Quoc Luc, Chairman of the Board of Directors of Sao Ta Food Joint Stock Company, from the beginning of the last 2 quarters, shrimp farming countries in the Southern Hemisphere such as Ecuador and Indonesia entered the crop early. , offering early as usual, creating more pressure on supply, increasing the intensity of price reduction.
Source: Mekong ASEAN (Traslated from the original in Vietnmese)
[email protected]
www.seafood.media