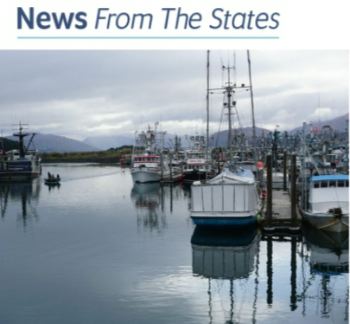 Image: newsfromthestates
These are Alaska's priorities for fishery management council

UNITED STATES
Sunday, May 28, 2023, 22:50 (GMT + 9)
The following is an excerpt from an article published by News From The States:
Alaska's federal fisheries for halibut, pollock, Pacific cod, crab, and other groundfish are economically important at the local, state, and national level.  These fisheries provide an economic base for many of our coastal communities through jobs and income from fishing, processing, industry support services, transportation, and shipping.  Sustainable management of these fisheries is critically important to our state.
Alaska shares management responsibilities for federal fisheries – which are 3 to 200 miles from the shore – with the federal government.  Decisions regarding the management of these fisheries are made via the North Pacific Fishery Management Council (Council).  The Council has a four-decade track record demonstrating that sustainable fisheries production is possible when based on the best scientific information available and conservative fishery management policies. The Council has 11 voting seats, of which five are nominated by the State of Alaska and one is the commissioner of the Alaska Department of Fish and Game.  As a result, Alaska has the opportunity to focus the work of the Council on issues of import to our state and its fishermen and communities.  
Based on discussions with a diverse range of user groups, delegations from our coastal communities, fishermen, processor representatives and other Alaskans, it is clear our fisheries are facing a number of challenges.  These challenges include unprecedented declines in Bering Sea crab stocks and ongoing low harvestable levels of Pacific cod and other economically valuable stocks that are causing economic hardship for fishery participants and affected communities.  We also heard ongoing concerns about the impacts of federal fisheries on key species like halibut, salmon, and crab.  This input was valuable to better understand the issues and to identify priorities and potential solutions.[continues...]
Author: Doug Vincent-Lang / newsfromthestates | Read the full article by clicking the link here
[email protected]
www.seafood.media