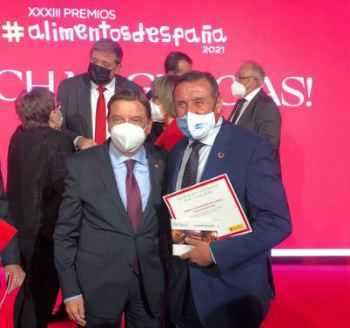 From left to right, Luis Planas, Minister of Agriculture, Fisheries and Food, and Julio Morón, Managing Director of OPAGAC
OPAGAC conveys to Minister Planas the need to review the European policy for imports of fishery products to the EU

SPAIN
Thursday, October 28, 2021, 07:00 (GMT + 9)
Julio Morón, Managing Director of OPAGAC, an organization that brings together the Spanish tuna fleet, conveyed to the Minister of Agriculture, Fisheries and Food, Luis Planas, his wish that the "Food of Spain" award, which recognized the AENOR Tuna Responsible Fishing (APR) certification, help to review the European policy on imports of fishery products from third countries.
This is how Morón transferred it to the minister during the award ceremony, expressing his desire that this distinction serve to transfer to Europe all the values ​​that this seal compiles, in terms of sustainability and social responsibility of a fishery product, and which, in his opinion, should be the same for any other intended for consumption by European citizens.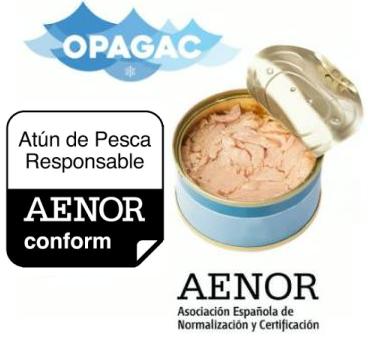 In this sense, the fleet has already drawn attention on several occasions to the EU's indifference to the treatment received by the crews of Asian fleets, ignoring the minimum conditions established in Convention 188 of the International Labor Organization ( ILO), which has not been an obstacle to the fact that tuna imports from these countries - exempt from tariffs - have gone from representing 5% in 2012 to 53% in 2019.
The AENOR Tuna for Responsible Fishing (APR) certification recognized by MAPA is international in nature, open to all tuna vessels in the world and guarantees that the social conditions on board certified vessels meet the conditions of Decent Work according to the Development Objective. Sustainable number 8 of the UN, thanks to the application of ILO Convention 188. Currently, 65 vessels are certified and catch some 450,000 tons of tropical tuna, slightly less than 10% of the world catch (5.2 million tons), so, in OPAGAC's opinion, there is still a long way to go for the rest of the world fleet present guarantees of social sustainability to distributors and consumers.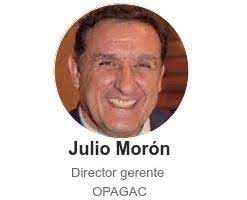 According to Julio Morón, "it is always a satisfaction to receive an award and more one such as that of Food from Spain, but it is necessary that all the effort involved is begin to reflect on political decisions. In fishing, Morón adds, it is necessary to penalize those who do not comply with the rules, as is the case of some Asian fleets, which in addition to having little regard for sustainability, both social and environmental, seriously jeopardizes the economic viability of the fleets scrupulous with the law for their unfair competition. It is time for the distribution to be responsible offering the consumer guarantees that their products are not produced under forced labor or modern slavery ".
[email protected]
www.seafood.media