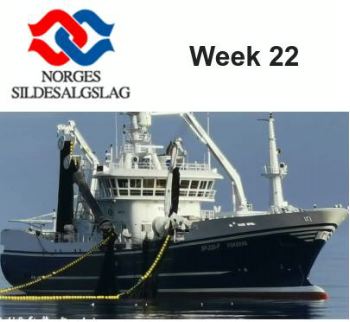 Photo: Sildelaget
The Norwegian Pelagic Fishing Course in Week 22

NORWAY
Monday, June 07, 2021, 18:00 (GMT + 9)
Great effort on the North Sea herring, but poor collection

North Sea herring:


A large fleet has been hunting for North Sea herring for the past week and based on the effort, the fishing has been rather slow. A total of 19,000 tonnes have been reported from 69 different boats with catch sizes ranging from a minimum of 30 tonnes to a maximum catch of just under 500 tonnes. We had the best registration day on Friday with almost 5,000 hours in the record.

Fishing in the North Sea has taken place in three different main areas from the Oseberg field north of the N 60⁰, in the Frigg-Heimdal area and southeast of the Patchbank. Throughout the week, the collection of herring has been poor with only improvement in short individual periods. With scattered occurrences, trawls are a better tool than nets, and of the week's quantity, as many as 12,700 tonnes have been fished with trawls.

Photo : Fiskebas

The average sizes of herring range from 140 g to 181 g, with an average of 161 grams for the entire consumption quantity. What is unusual is that the smallest herring is in the field furthest north.

In the Skagerak, where there is a small quota and a separate sailing scheme, two boats have fished 530 tonnes of trawl. To avoid bycatch, the boats here use sorting grids. For purse seines, there are now only 213 hours left and a third boat is now on its way in the Skagerak.

In relation to the quota of 105,347 tonnes, just under 41,000 tonnes have been fished. If we compare this with the two previous years, the quantity fished is significantly higher this year.
In the coming week, we still expect large participation in herring fishing. We hope for a better gathering, and maybe the new moon on Thursday can have a positive effect on this

Norwegian Spout / Blue whiting:


Several boats have moved their activity to "Kantafisket". From Egersundsbanken in the south to the north of Veslefrikk in the north, 11 boats have fished 2,000 tonnes of Norwegian Spout, 1,300 tonnes of blue whiting, and 40 tonnes of herring.

Mackerel / Horse mackerel:



As the summer progresses, more mackerel catches are ticking in and last week we received 210 tonnes from the smallest coastal fleet. This is divided into 36 catches from Rogaland in the south to Møre in the north where the best fishing has been furthest south.

With an ever-increasing quantity of mackerel, a quota for fresh deliveries of 15 tonnes will be introduced, effective from today 7 June.

From the north, we have so far not received reports of mackerel. With a larger mackerel quota, we expect large participation in the north if the mackerel "appears" there. Last year we had the first catch on 14 June.

Author: Kenneth Garvik / Norges Sildesalgslag (translated from original in norwegian)
[email protected]
www.seafood.media