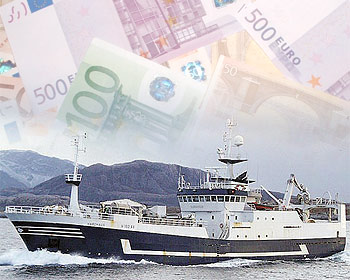 The lack of consensus on economic issues contribute to the failure of the previous negotiations to renew the fisheries agreement. (Poto: Stock File/
Negotiations with Mauritania keep the Spanish on tenterhooks

EUROPEAN UNION
Thursday, July 26, 2012, 01:40 (GMT + 9)
While the seventh round of negotiations is being held to renew the fisheries agreement between the European Union (EU) and Mauritania, to the African country's government there only remains to settle the economic aspect because the technical one has already been closed.
The previous negotiations were a failure because an agreement on the financial compensation to be paid by the EU to Mauritania had not been reached.
But the EU executive argues that the technical and economic aspects are inseparable so the negotiations continue in an effort to be able to sign a new pact. The current agreement expires on 31 July, 2012.
The agreement that has been in force since 2008 provides permits to 110 European vessels, of which 60 are Spanish -- including shellfish, cephalopod and tuna ships.
The EU pays the Mauritanian State EUR 76.25 million per year, that is to say, 29 per cent of the resources of its budget.
In December 2011, the parties agreed on the implementation of measures on issues such as the landing of the captured fish at the port of Nouadhibou, the commitment to deliver 2 per cent of all pelagic catches and the obligation of ships to employ 60 per cent of Mauritanian sailors, the newspaper Faro de Vigo reported.
The EU and Mauritania also agreed that the fishing boats can operate at 20 miles offshore to fish pelagic species (instead of 13 as before) and 8 miles offshore for those catching crustaceans (instead of 6).
However, European shipowners argue that this reduction in fishing areas is unacceptable, especially for vessels catching shrimp and prawn.
The Galician cephalopod vessels could be out of the negotiations that are taking place, since in the latest meeting several Mauritanian scientists presented a paper which claimed that the octopus was in a critical status because of its scarcity.
The delegations negotiating the renewal of the agreement are headed by Sheij uld Ahmed, technical adviser to the Minister of Fisheries of Mauritania; and by Stefaan Depypere, director of international affairs and markets of the Directorate General for Maritime Affairs of the EU.
Representatives of the National Association of Cephalopod Producers (Anacef) and of other fishing groups affected by the bilateral agreement also travelled to Nouakchott to keep all fishermen informed about the evolution of the negotiations.
Related article:
- Mauritania and EU start negotiations to renew fishing agreement
By Analia Murias
[email protected]
www.seafood.media