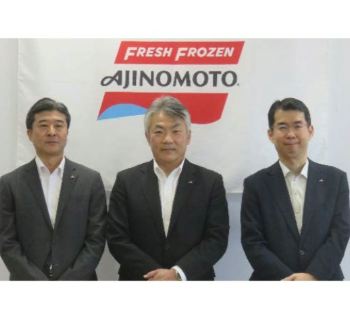 From the left, Executive Officer Toshihiro Haga, President Hiroyuki Teramoto, Managing Director Kazutaka Fushimi
Ajinomoto Frozen Foods, FY2022 sales to reach 105.7 billion yen, up 4% year-on-year

JAPAN
Friday, May 26, 2023, 07:00 (GMT + 9)
On May 24, Ajinomoto Frozen Foods held a 2022 performance report meeting for a professional newspaper at its headquarters.
Sales in FY2022 were 105.7 billion yen, up 4% from the previous year, and business profit was 7.3 billion yen, up 300 million yen from the previous year. The business profit margin remained at the same level as the previous year at 6.9%. Profits in the Japan business declined due to soaring raw material and fuel costs and the impact of exchange rates, but sales and profits increased thanks to the growth of the overseas business.

Ajinomoto publishes figures after deducting common expenses in its financial results, but it reveals figures that are closer to the actual management situation. The breakdown of domestic business sales is 1% for home use, 9% increase for commercial use, and 1 key account (KA = business area centered on custom-made products such as restaurant chains, convenience stores, hospitals and facilities). % reduction.

As for home-use dumplings, sales of the main products decreased from the previous year, but overall sales increased from the previous year. Steamed dumplings increased by just under double digits. Sales of vegetable deli (Chinese rice bowl ingredients, Anpanman potatoes, etc.) grew by double digits.
Regarding gyoza, Kazutaka Fushimi, Managing Director of Marketing Headquarters, said, "Since the middle of the period, we have changed the course in the direction of thoroughly appealing the value, and by suppressing the sale price, the selling price difference with competing products will widen from the second half of 2022, and the value appeal will fill the gap. On the other hand, although the selling price range for large gyoza dumplings is quite high, the response has been good."
Rice products and processed chicken products for home use decreased. Managing Director Fushimi said, "There are many products in the high price range compared to our competitors, and the price revision puts a heavy burden on consumers to accept them. We needed to do more to stimulate demand."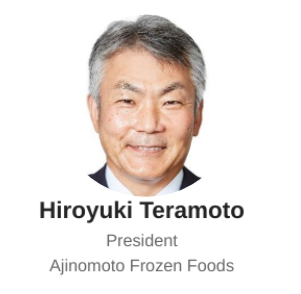 Sales for household use decreased by double digits on a volume basis. Regarding home use, President Hiroyuki Teramoto said, "The market is growing even in categories where we struggled. I think we have no choice but to take measures to remove the price threshold, but we will continue to develop new products while strengthening the structure. I want to take a comprehensive approach, including for commercial use, we have been reducing unprofitable items as structural reinforcement, but sales recovered as the market recovered due to the relaxation of corona regulations. However, it has not reached the scale before the corona. Gyoza, sweets, and processed vegetable products (such as fried lotus root scissors) grew."
President Teramoto said that commercial use is not simply riding on the recovery of the market, but that it is recovering strongly. "The market is recovering, but the basis for our confidence is that our proposal-based initiatives to address labor shortages are gaining support. is the DNA of the Ajinomoto Group.We would like to further strengthen our position as a frozen food company within the Ajinomoto Group, and we will use the Ajinomoto Group's technologies to create differentiated products and differentiated proposals. To go".
Sales of key accounts decreased, but medical sales grew significantly, while sales of other channels struggled. However, profit increased due to structural reinforcement.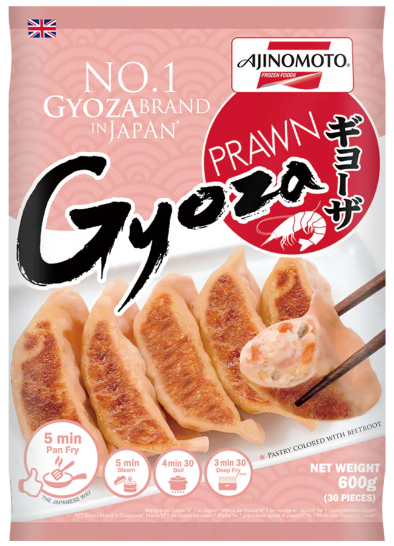 Profits in the domestic business declined. Due to soaring prices of raw materials and fuels, difficulties in procuring raw materials, and the impact of exchange rates (a factor that decreased profits by 4.4 billion yen in total), we were not able to absorb all three price revisions during this period. However, the company emphasizes that the accumulation of cost reduction measures through the use of AI to reduce losses and the development of alternative raw materials at the factory contributed greatly to securing profits.
FY2022 net sales of the overseas business will grow by 29% year-on-year. Chamen (fried noodles) exported from China to North America and Europe and gyoza dumplings exported from Thailand to Europe performed well. Profit increased as sales increased. The scale of the business is about 10% of the total, but it drove the overall performance.
Regarding FY2023, Executive Officer Toshihiro Haga, General Manager of Corporate Planning Department, said, "The key point is how to get the home-use business back on a growth trajectory." Regarding this point, Managing Director Fushimi said, "We will break away from the world of discounts and thoroughly appeal to value. From this April, we will refrain from discounting and start various marketing measures."
One example is a case where the company offered to pick up the frying pan in response to a comment on SNS that the gyoza was not cooked well, and it became a big topic. "We would like to actively communicate with consumers in a multi-faceted, two-way manner about what kind of company we are and what we have been doing for our customers," he said.
Source: Shokuhin Sangyo Shimbun News
[email protected]
www.seafood.media