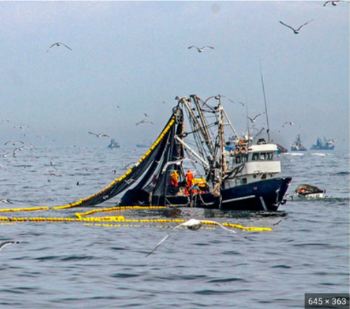 Photo: Ministerio de la Producción (Produce)
Produce authorizes the start of the second anchovy fishing season from November 28

PERU
Thursday, November 24, 2022, 16:20 (GMT + 9)
A quota of 2 million 283 000 tons was established for the north-central zone of the country. Also, an exploratory fishing for five days from Yesterday.
The
Ministry of Production (Produce)
authorized the start of the
second season of industrial fishing for anchovy (Engraulis ringens) and white anchovy (Anchoa nasus)
, destined for indirect human consumption in the maritime area between the extreme north of the domain maritime of Peru and 15°59´59.9′'S.

The start of the fishing season will be on November 28 of this year, with five days of exploratory fishing starting on November 23 in the maritime area outside five (5) nautical miles from the coastline, in the extreme north. of the Peruvian sea and 15°59'59.9''S.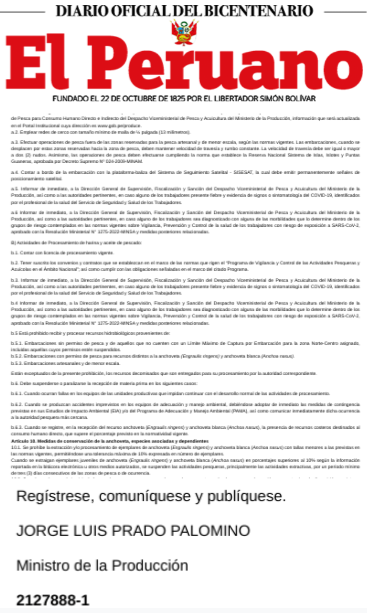 In the same way, it was announced that the completion date of the second fishing season 2022 will be once the total maximum allowable catch limit of the authorized north-central zone has been reached, or failing that, when the
Instituto del Mar del Peru (Imarpe)
recommends it due to environmental or biological circumstances.
Only allowed
The regulation also indicates that only fishing vessels with a fishing permit for the anchovy resource destined for indirect human consumption, registered and authorized to carry out extractive activities during this Ministerial Resolution, can carry out fishing activities within the framework of this Ministerial Resolution. fishing season, according to the Maximum Capture Limit per Vessel of the North-Central Zone (LMCE North-Central).
This list whose list is published by Directorial Resolution of the General Directorate of Fisheries for Direct and Indirect Human Consumption of the Vice Ministerial Office of Fisheries and Aquaculture of the Ministry of Production.