Frozen squid retail bag METRO supermarket in Russia (Photo: Metro)
Cephalopod, octopus and squid, 2020 market overview and forecast for 2021

WORLDWIDE
Wednesday, June 23, 2021, 07:10 (GMT + 9)
The cephalopod industry is highly dependent on the catering sector, and with the closure of restaurants and hotels due to the pandemic in 2020, sales "plummeted". By the end of 2020, there are some signs of recovery, with great hope for 2021. In the coming months, supplies of octopuses, like squid, may be reduced.
Cephalopod market overview in 2020 and forecast for 2021
Octopus
In the state of Yucatan in Mexico, the octopus catch in 2020 was the poorest in a decade.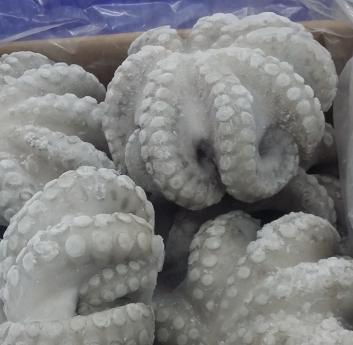 Sales volumes fell 50 percent. In 2019, the state harvested about 16,000 tonnes, and by the end of October 2020, only 8,000 tonnes. Consequently, Mexico's octopus exports in 2020 were lower than in 2019.
There was a very good octopus production in Morocco in 2020 and this, as a result, had an impact on the market.
Frozen IQF Squid (Photo Stockfile) ►
International Trade
After falling to their lowest level since 2016, octopus prices began to rise again in European markets from October 2020. Summer break, which is usually the high season for octopus sales in the Mediterranean region, simply didn't take place due to COVID-19 and sales fell. But towards the end of the fishing season (which ended on October 1), Mauritanian exporters noted an increase in prices in Spain.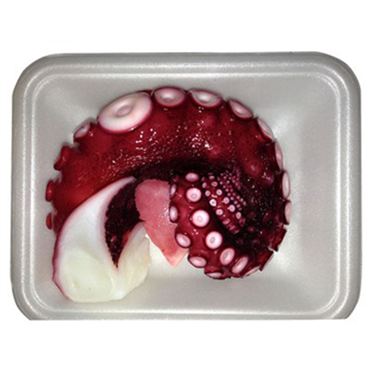 Imports of octopus (all species) to Japan decreased 2.6 percent during the first nine months of 2020 compared to the corresponding period in 2019. However, the two largest suppliers, Mauritania and Morocco, increased shipments to the Land of the Rising Sun by 17.5 percent and 24.2 percent, respectively.
► Japanese retail pack octopus (Photo: Stockfile)
Imports of octopus by the Republic of Korea during the first nine months of 2020 remained practically unchanged compared to the same period in 2019 and amounted to 50,600 tons. China strengthened its position as the largest supplier and exported 22,102 tons to the Republic of Korea, up 6.6 percent from 2019.
Squid
The Humboldt giant squid fishery is one of the most important artisanal fisheries in Peru. One hundred percent of the catch comes from artisanal fishermen, and Peru holds about 49 percent of the world's stocks of this species.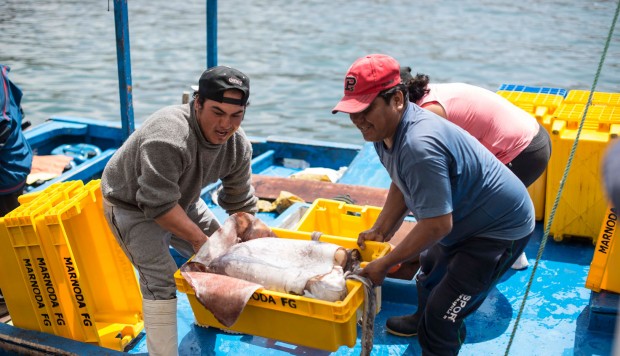 Artisanal peruvian fishermen with fresh giant squid (dosidicus gigas). Photo: Stockfile
However, international buyers are concerned that the fishery is not well managed and warned the Peruvian authorities that if the artisanal fleet and fishery are not properly regulated, there is a real risk that the fishery will be classified as illegal, unreported and unregulated (IUU). If this happens, the Peruvian giant Humboldt squid will face huge challenges in the market.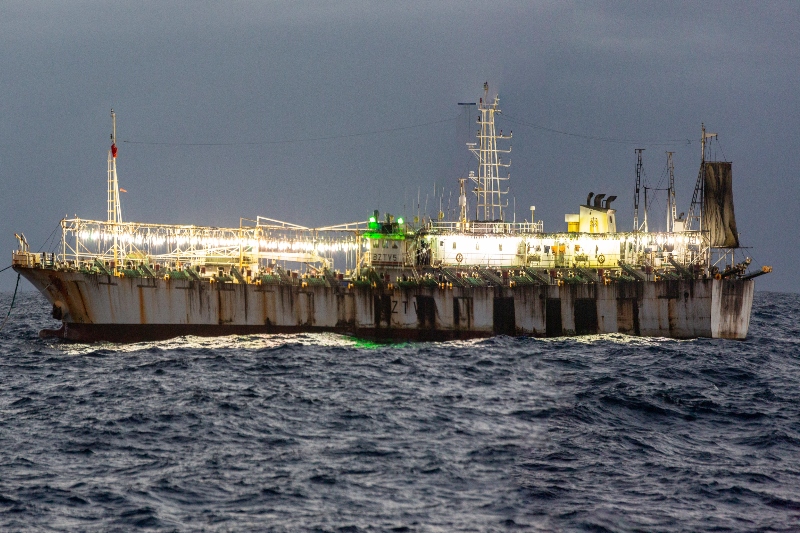 Chinese jigging squid vessel outside Peru (Photo: courtesy Sea Sheperd)
The number of Chinese squid catchers in the waters of the South Pacific has quadrupled in the past nine years. In late October, more than 300 Chinese vessels were sighted near the exclusive economic zone (EEZ) of Peru, and Peruvian authorities were concerned that some of these vessels might have entered Peruvian waters. While South American countries set quota limits on squid fishing in their waters, there are no restrictions on vessels sailing in international waters.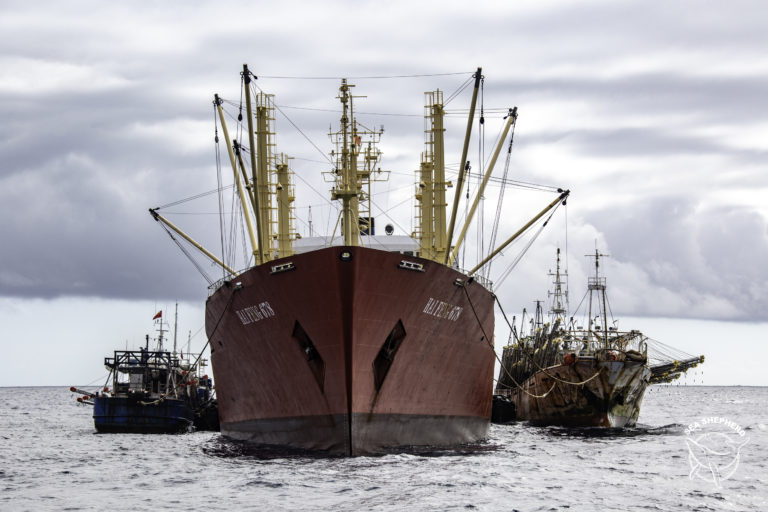 China's activity in the South Pacific is also evident in Chinese statistics. The port of Zhoushan, China's leading ocean fishing port, reported a sharp increase in inbound shipments. In the first ten months of 2020, squid landings at Zhoushan increased 13 percent over 2019, from 300,000 tons to 340,000 tons. Most of this increase is attributable to fruit-based fisheries in the South Pacific.
►Many Chinese boats arrive in Peruvian waters in search of Humboldt squid (Image by Simon Ager Sea Shepherd)
In 2020, the squid fishery around the Falkland / Malvinas Islands was worse than in 2019. In 2020, the local fleet caught a total of 60,700 tonnes, 26 percent less than in 2019.
International Trade
After the first shock caused by COVID-19, the number of squid products delivered to your home has grown significantly. In the United States of America, a number of restaurants and food service chains have canceled orders, but, surprisingly, the demand for home delivery of squid products has skyrocketed.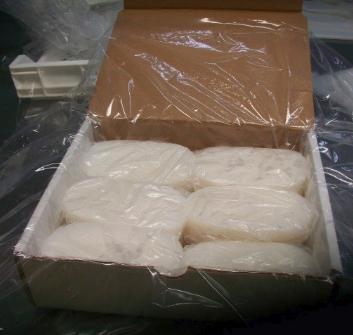 Brexit could be a big problem for the Falkland / Malvinas. Since the United Kingdom of Great Britain and Northern Ireland left the European Union on January 1, 2020, the Falkland / Malvinas Islands may lose duty-free access to the European Union and this will pose a major obstacle to the squid industry. The European Union is the largest market for loligo squid in the Falkland / Malvinas Islands.
Peruvian giant squid fillet frozen. Photo: Stockfile ►
Imports of frozen squid fillets by the Republic of Korea in the first eleven months of 2020 amounted to 25,224 tons, up 9 percent from 23,234 tons in the same period in 2019. However, prices have dropped. The average import price in November was just $ 1.48 per kg, down 36 percent from a year earlier.
Squid and cuttlefish imports to Japan fell 5 percent in the first nine months of 2020 to 108,756 tons. The two sides of the suppliers, China and Peru, fell by 7.1% and 36.2%, respectively.
Squid and cuttlefish imports to China also fell 20 percent in the first nine months of 2020 compared to the same period in 2019. Peru, which was China's top supplier in 2019, cut shipments to China by 65 percent from 71,439 to 25,172 tonnes in 2020.
Spain imported fewer squid and cuttlefish in the first three quarters of 2020. Imports during this period fell from 235,125 tons in 2018 to 217,036 tons in 2019 and to 162,826 tons in 2020.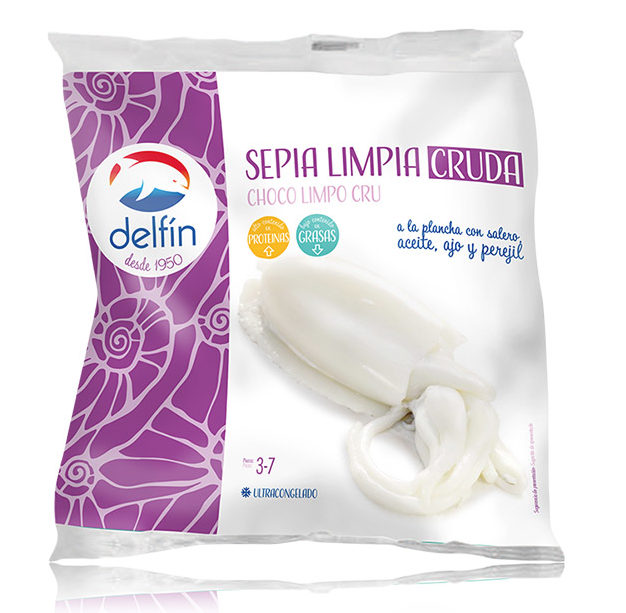 The drop in demand during the last months of 2020 resulted in a decrease in imports of squid and cuttlefish for nine months. Imports fell 27.5 percent to 35,300 tons. The largest supplier, China, had market share as its US shipments fell 38.9 percent. In 2019, China accounted for half of the imports of these products to the United States. In 2020, China's share has dropped to 42 percent.
► Cuttlefish clean 400g frozen IQF retail bag. Photo: courtesy Delfin
Squid prices from Morocco remain well below 2020 prices, although some improvements were noted towards the end of the year. In August, prices for Moroccan squid reached their lowest level in recent years. Spanish demand appears to have risen by the end of the year, but production was scarce. The increase in pricing power is both growing demand from Spanish retailers and a slowdown in supply from Asia.
Source: Far Outskirts/FishRetails (Translated from original in russian)
[email protected]
www.seafood.media