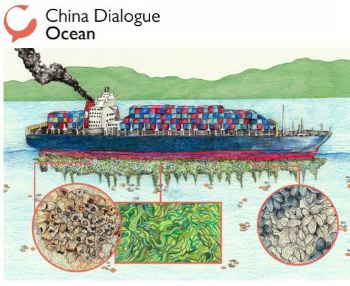 Photo courtesy from China Dialogue Ocean
Blistering barnacles! The sticky problem of biofouling

UNITED KINGDOM
Tuesday, June 21, 2022, 07:00 (GMT + 9)
The following is an excerpt from an article published by China Dialogue Ocean:
The accumulation of sea life on ships' hulls, known as biofouling, slows ships and can spread invasive species. Could regulation and innovation have the answers?
Like many English words and phrases, the description of something reliable as "copper-bottomed" has a maritime origin.
It dates from the 18th century, when seafarers had long struggled with unwanted plants and animals that stuck to the wooden hulls of their ships and slowed them down.
In 1761, the Royal Navy plated the hull of its frigate HMS Alarm in thin copper, which kept away weeds and tube worms so successfully that the practice – and the praise of something risk-free as copper-bottomed – became widespread. At least it did until the launch of iron ships a century later, which unfortunately could not be copper-plated because that encouraged corrosion.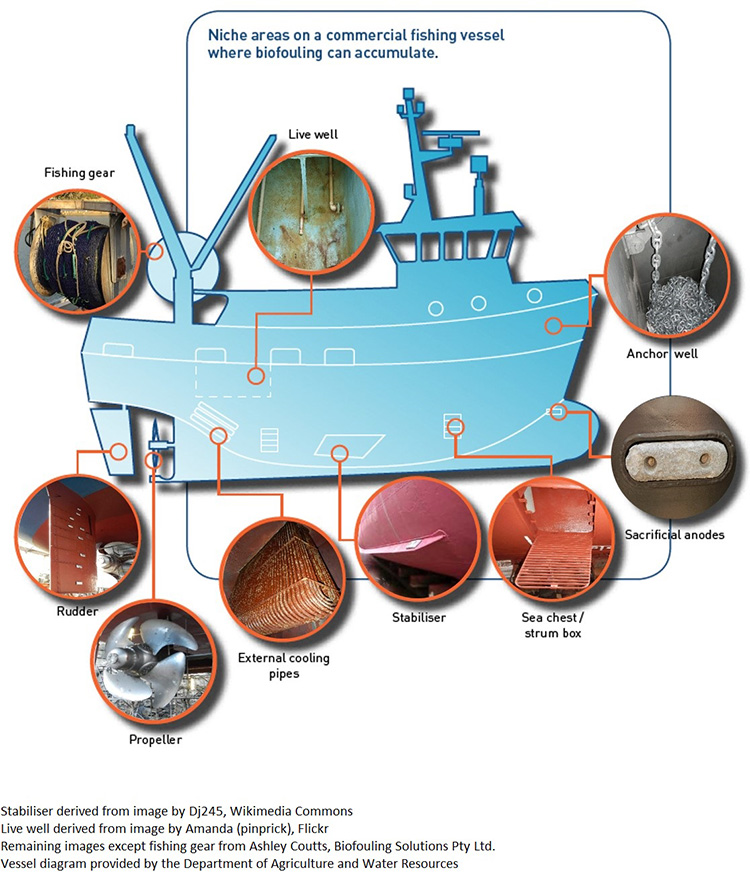 Photo: mpi.govt.nz
Today's sailors still struggle with the same problem. More formally called biofouling, the unwanted build-up of sea life on the hulls of everything from pleasure boats to aircraft carriers causes drag through the water. This slows speeds and so necessitates the burning of more fuel, producing both higher costs and more carbon emissions. (The skins of sea creatures from whales to sea snakes can also become encrusted with barnacles in a similar way.)
Biofouling can have a more direct environmental impact as well. As ships criss-cross the oceans, their submarine stowaways can pose real problems to ecosystems that must suddenly learn to live with the new arrivals.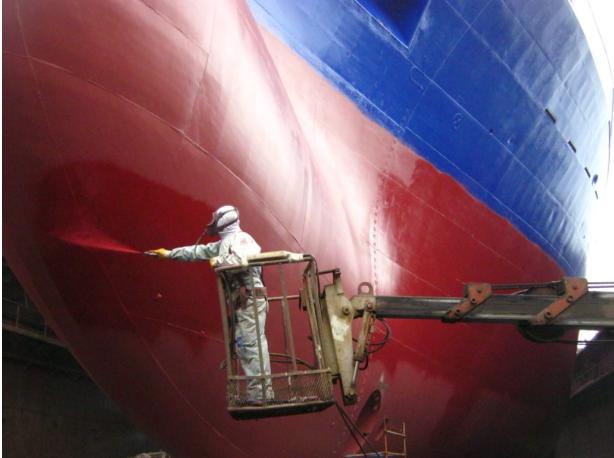 Photo: coating.org.uk
"Pretty much any surface that you put into the ocean is going to get growth on it. It's going to accumulate biofouling," says Kelli Hunsucker, an oceanographer at the Florida Institute of Technology. "It's when that growth becomes too cumbersome that we see these problems. And they are the same problems that the Greeks and the Romans had. They all had issues with biofouling."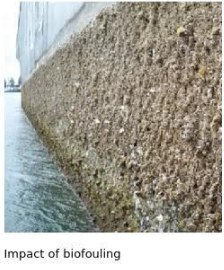 Barnacles and other stowaways
Studies have recorded some 2,000 different species living in these shipbound communities, the barnacle family probably being the best known. Related to crabs and lobsters, these adhesive crustaceans have become shorthand for a sticky nagging problem that's hard to remove.
Barnacles start life much more mobile, released in their tens of thousands as tiny larvae. Although they can survive for several weeks floating in the sea, to develop into adults they must fix onto a hard surface, which they do with relish. They are such a common feature of life at sea that they were once used in a punishment called keelhauling, in which an unfortunate seaman would be dragged along the underside of the ship's keel by a rope, and so across fields of razor-sharp shells. The longer the biofouled ship had gone without being beached and cleaned, the worse the experience.
Still, the high-profile barnacle is just the most visible form of biofouling, and one that tends to appear relatively late in the process. Microscopic bacteria and algae get there earlier, feeding on the cocktail of chemicals that seawater contains.
"As soon as you put a surface in the water, organic molecules will start to adhere to it. Then within minutes or hours you get bacteria forming," Hunsucker says. "And then it goes from there to different types of unicellular organisms, algae and quickly up to larger life like barnacles and oysters. It forms this beautiful three-dimensional community with even crabs and shrimps living in there."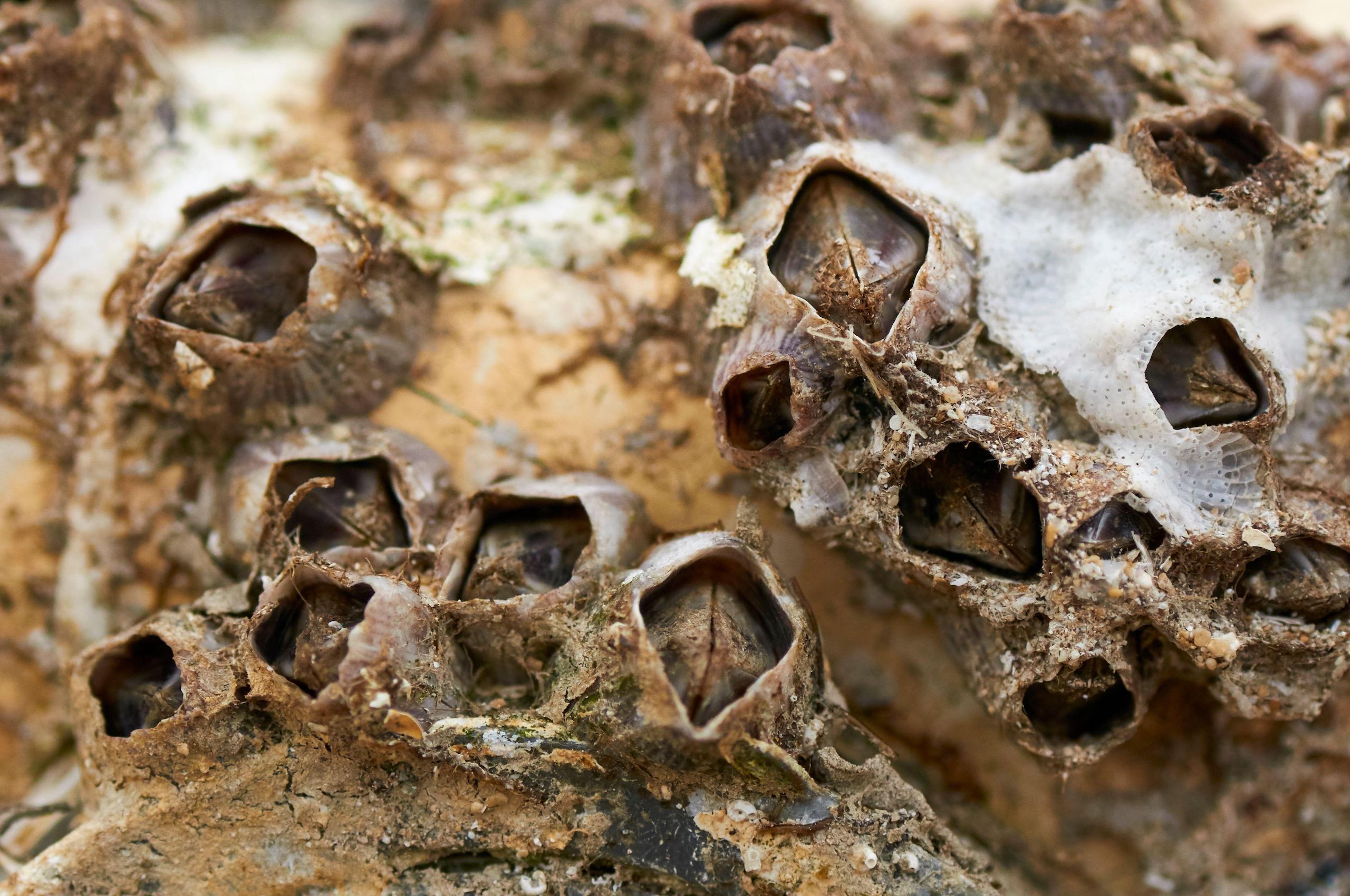 Photo ocurtesy from China Dialogue Ocean
Beautiful to a marine scientist, perhaps, but not to a ship's captain. A microbial biofilm just a few millimetres thick is enough to significantly increase drag, Hunsucker says. One study suggested that a ship with a medium level of barnacle encrustation would need 36% more power to sustain its speed than a clean one. Dry dock inspections of some 249 ships between 2015 and 2019 found that over 40% had barnacle coverage of 10% or more.
"I think this is going to become a bigger issue for the shipping companies and the cruise lines who are going to be really hit by the drastic increase in the cost of fuel," Hunsucker says. "You don't have to reduce your biofouling by much, but if you can reduce it then you can save a lot of money on gas." (continues...)
Author/Source: David Adam / China Dialogue Ocean | Read the full article by clicking the link here
[email protected]
www.seafood.media