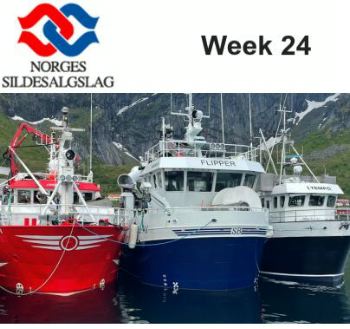 The mackerel has arrived at Vesterålen, and is still lagging on the North Sea herring. Photo: Norges Sildesalgslag (2021)
The Norwegian Pelagic Fishing Course in Week 24

NORWAY
Monday, June 21, 2021, 16:00 (GMT + 9)
The mackerel has arrived at Vesterålen, and is still lagging on the North Sea herring

North Sea herring:


Another week with great efforts on the North Sea herring, but the result has been rather lax with 10,100 tonnes in the record. This quantity is fished by 48 different boats where the lowest quantity is 15 t and the largest catch is 490 t. Of the weekly quantity, 5,900 t were reported on Thursday and Friday, while this weekend only about 1,000 t were fished. Nordavind this weekend is probably the reason to the low quantity.

In the first part of the week, the main fishing took place in the area of ​​Koralbanken and west of Patchbanken. The fleet pulled out during the week north to Vikingbanken and all the way north towards the Kvitebjørn field which lies north of N 61⁰. The fishermen report generally modest herring registrations, where there is only a brief moment of gathering for trawling and casting.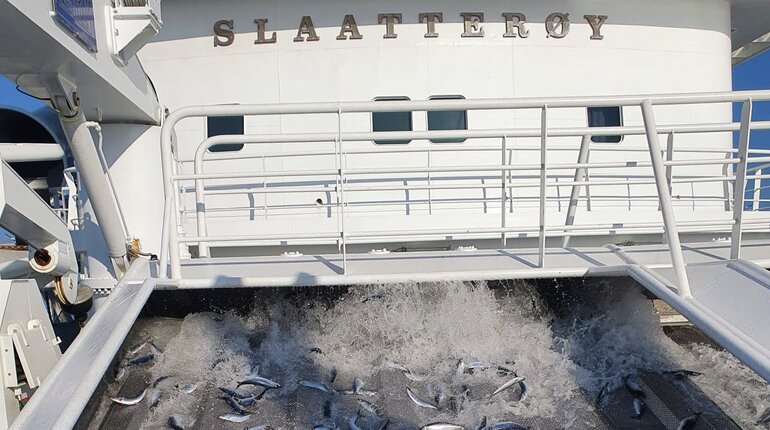 Photo : courtesy Norges Sildesalgslag (2021)

This week we got more varying herring sizes from 136 g as the lowest and 206 g as the highest average. The average size of the entire quantity is 175 grams. From the buyers who produce matjes, then mainly on the smallest herring, it is reported that the quantities are starting to be met. And that one is mostly at the finish line during the coming week.
For those who demand larger herring (200 g) for skinless fillets, it is hoped that there may be more herring in the future.

A look at the quota picture shows that 67,100 t have been fished out of a potential quota of just over 111,000 t if we take full flex into account. As the picture is now with a poor fishery, the goal will be to fish 90% of the quota. A review of the individual quota shows that just over 30 boats in purse seines have been completed and just under 20 in line with the quota for coastal / SUK.

There will still be many boats fishing for herring in the coming week. We cross our fingers that the north wind is giving way and that the impact of the full moon on Thursday can have a positive effect on the collection of North Sea herring.

Mackerel:


At that time, mackerel fishing in the north was underway, and in addition to coastal fishing in the south, we caught 690 tonnes of mackerel last week.

Of this quantity, 590 t are fished by 15 boats in the coastal group. The sizes in the north vary from 450 g to as high as 569 g.
The fishing here started at the same time and place as last year, in the outer part of the Vestfjord on Tuesday. It turned out that there were modest amounts of mackerel in this area, and after rumors of mackerel further north, the boats went on a search there. This weekend we have had several catches on the stretch between Bø and Gavlfjorden in Vesterålen. A lot of mackerel is reported in this area, but the challenge has been that the mackerel is in shallow water which makes it difficult to cast with deep nets.

In the south, a good 90 tonnes have been fished from Rogaland to Møre, with catches from 1-10 tonnes.

Blue whiting / Norway Pout:

We caught 5,100 tonnes of blue whiting last week, where two catches from the southern Norwegian Sea contributed as much as 3,850 tonnes. The fishing in this area has been very good where the boats report good blue whiting registrations and daily catches of up to 1,000 tonnes.

From the "Edge", 2,500 tonnes of norway pout, 1,250 tonnes of blue whiting and 70 tonnes of herring have been fished.

Author: Kenneth Garvik /Norges Sildesalgslag (translated from original in norwegian)
[email protected]
www.seafood.media