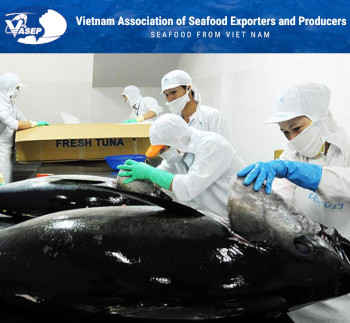 Image: Vasep / FIS
USA - top 1 tuna import market of Vietnam
VIET NAM
Friday, September 15, 2023, 07:00 (GMT + 9)
In recent years, the US has always been the leading market for tuna imports from Vietnam. Vietnam's tuna export turnover has increased 2.5 times after just 10 years of Vietnam and the US establishing a comprehensive partnership, reaching a record level of nearly 487 million USD in 2022.
Export imprint after 10 years
From 2017 to 2019, tuna exports to the US grew continuously. In 2019 alone, exports to this market skyrocketed 38%. The reason is due to the impact of the trade war between the US and China, so US importers have turned to Vietnam. This has helped Vietnam increase its market share in the US tuna market in 2019.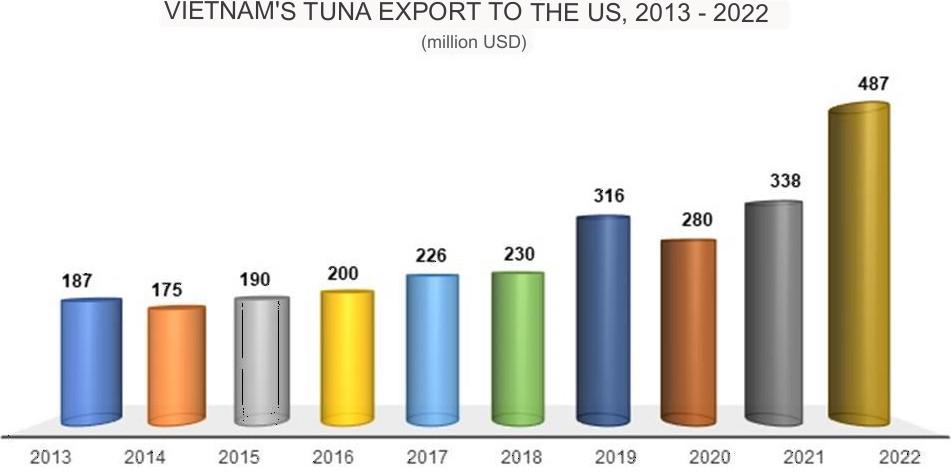 Source: Vasep
Entering 2020, due to the impact of the Covid-19 pandemic, Vietnam's tuna exports have decreased. However, the US economic recovery after the stressful period of the pandemic is considered the strongest among Western economies, helping Vietnam's tuna exports to the US peak in 2022.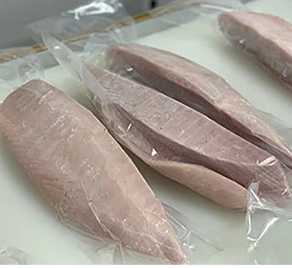 Source: Stockfile FIS -->
But then, due to general difficulties in the world market such as inflation, a decrease in average export prices, and a sudden increase in imports in the US in 2022, inventories increased... causing tuna imports to the US to slow down. . Vietnam's tuna exports to this market in the first 7 months of 2023 decreased by 49%, reaching just over 171 million USD. However, this decrease is assessed as temporary and not a major trend in the near future.
Frozen tuna meat/loin products with code HS0304 are Vietnam's main export products to the US in recent years. While Vietnam's exports of these products have grown steadily in recent years, canned tuna exports have had many fluctuations.
Many opportunities will open up in the near future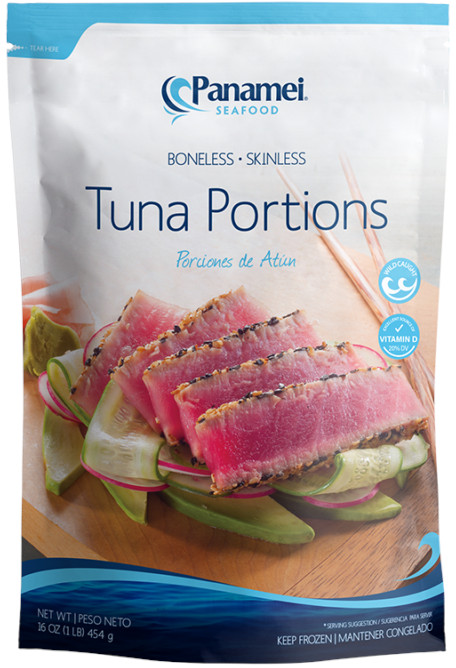 <-- Source Panamei Seafood
Among the world's tuna import markets, the US is the second largest importing country after Japan. Tuna is still the third most consumed product in the US. Therefore, the US will continue to be the leading strategic partner of Vietnam's tuna industry.
It can be said that Vietnam - US relations have made remarkable progress in both quality and quantity after 28 years of establishing diplomatic relations and 10 years of establishing comprehensive partnership. Over the past 10 years, the growth rate of Vietnam's tuna exports to the US is increasingly improving. And the event of upgrading relations to the level of comprehensive strategic partnership between the two countries during US President Joe Biden's visit to Vietnam will create unprecedented opportunities to promote economic and trade cooperation, including trade. Vietnam's tuna trade with the US will have stronger and more sustainable breakthroughs in the coming time.
Author: Nguyen Ha | Vasep (Traslated from the original in Vietnamese)
[email protected]
www.seafood.media