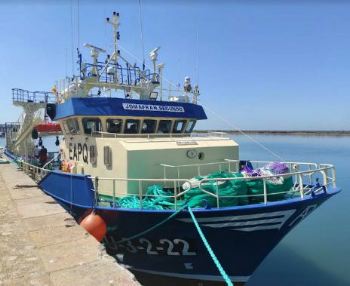 The 'Jomafran Segundo' remains docked in the port of Huelva and will go out to fish on May 16.
Andalusian shellfish fleet orders three new state-of-the-art trawlers from Armon Shipyards

SPAIN
Tuesday, May 10, 2022, 04:00 (GMT + 9)
They have involved an investment of 15 million euros and will generate around 270 jobs in the area

Huelva - The Andalusian shellfish fleet has commissioned the Asturian shipyards Armon to build three new state-of-the-art trawlers. The three ships, whose first unit has already been delivered, will be operational in a year and have involved an investment of 15 million euros for this fleet, integrated into the National Association of Shipowners of Freezer Ships for Seafood Fishing (ANAMAR), associated to CEPESCA.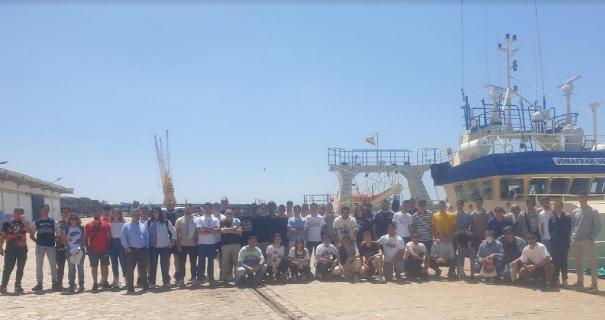 Photo group Visit Jomafran Segundo Maritime CIFP Zaporito

The new vessels will generate around 270 jobs in the area and will operate in the fishing grounds of Mauritania, Guinea Bissau, Angola, Morocco, Senegal and the Republic of the Congo under the respective agreements, both private and of the European Union (EU) with these countries, and where the main target species are prawns, prawns and crabs.

The boats, which use two types of fishing gear (classic trawlers and outriggers) are equipped with the latest maritime-fishing technologies to ensure the sustainable exploitation of resources and efficient fishing activity.

Photo: Armon Shipyard

In fact, both the main engine and the auxiliary engines are state-of-the-art, which reduce CO2 emissions into the atmosphere by consuming around 200 liters of diesel per day less than older engines. They also have state-of-the-art cold technology that ensures the correct freezing of the product at a temperature between -25° and -30° for a period of approximately 40/50 days. Likewise, they also have advanced communication systems to ensure the safety and comfort of the between 17 and 20 crew members that each of them embarks.

The first unit of the three new ANAMAR vessels has already been delivered and the remaining two will be operational within a year. Regarding the one already delivered, the Jomafran Segundo ship, of the Pesqueras Jomafran company, has a length of 29.50 meters, a power of 716.08 Kw (973.6 CV) and a tonnage of 281 GT.
[email protected]
www.seafood.media