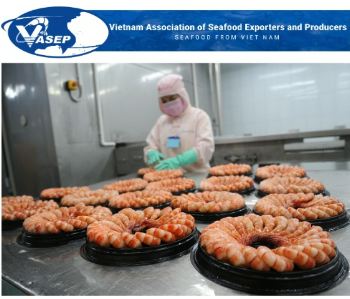 Image: VASEP
Vietnamese shrimp exports reach 4.3 billion USD in 2022
VIET NAM
Friday, January 20, 2023, 07:00 (GMT + 9)
VASEP, the Vietnam Association of Seafood Exporters and Producers, report that in 2022, Vietnam's shrimp exports will reach a record of $4.3 billion, up 11% compared to 2021. This is an encouraging result in the context that the shrimp industry is still facing with many difficulties such as the consequences of the Covid pandemic, the Russia-Ukraine conflict, high inflation in markets, sharp increase in production and business costs, fluctuations in foreign exchange rates, etc.
In the first half of 2022, shrimp exports grew strongly thanks to high demand and rising prices. In the second half of the year, high inflation in major economies affected consumer sentiment, while inventories remained high, causing shrimp exports to decelerate. In December 2022, shrimp exports decreased by 21% compared to the same period in 2021, reaching 259 million USD.

Image: VASEP
Regarding export products, the export value of black tiger shrimp will decrease, and whiteleg shrimp will still increase in 2022. Processed shrimp products increase better than fresh/frozen shrimp products. Among exported black tiger shrimp and vannamei shrimp products, only fresh/frozen black tiger shrimp decreased by 7%, other processed black tiger shrimp increased the best by 15%. The export value of processed vannamei and fresh/frozen vannamei increased by 11% and 3%, respectively.
In December 2022, shrimp exports to main markets decreased simultaneously, in which exports to the US and EU decreased the most by 46% and 44%, respectively, exports to Japan decreased by 4%, exports to Korea decreased by 25%, Only the Chinese market still increased shrimp imports from Vietnam with a growth rate of 38% in December.

Image: VASEP
According to data of Vietnam Customs, in 2022, Vietnam's shrimp exports to the US reached US$ 807 million, down 23% compared to the same period in 2021.
According to data from the National Oceanic and Atmospheric Administration (NOAA), in November 2022, the US imported 64,014 tons of shrimp, worth 579.3 million USD, down 19% in volume and 25% in value, compared with the same period in 2021. This is the fourth consecutive month, shrimp imports into the US recorded a decrease.

Image: VASEP
The reason for the decrease in shrimp imports to the US is due to the large inventory. Retail sales and food service have both been slow, with retailers sometimes asking to delay deliveries. Despite high inventories, the price of shrimp in the US did not decrease because wholesalers did not want to sell because the price was not yet available.
The demand during the holiday season is quite large. This is the first winter break in the US since 2019 when tourism is said to have returned to normal. More travel means more gatherings and more eating, which leads to more seafood consumption. However, the recovery in demand has not yet been able to "help" the top shrimp exporters to the US.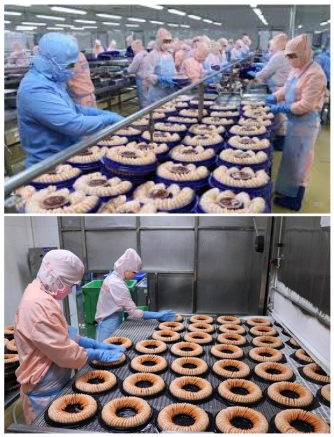 Top US shrimp exporter India (21,413 tons, valued at 187.18 million USD) recorded a decrease of 28% and 31% respectively over the same period in 2021. Vietnam, Thailand, Mexico, Argentina and Peru both recorded declines in volume and value of exports to the US. Among shrimp exporters to the US, only Ecuador continues to increase shrimp production year-on-year in 2021.
Image: VASEP -->
The US market's demand for Vietnamese shrimp imports may improve after the first quarter of 2023 when inventories are reduced and the economic situation is more positive.
In 2022, shrimp exports to the EU market reached 691 million USD, up 13% compared to 2021. Vietnam's shrimp exports to the EU began to decline from October 2022. Inflation here was record high, energy price crisis. , exchange rate fluctuations affect storage costs and organization of consumption.
In December 2022, while exports to most major markets decreased, exports to China still recorded an increase. Vietnamese shrimp exports to China this month reached $48 million, up 38%. In 2022, shrimp export value to this market reached nearly 664 million USD, up 61% compared to 2021.
From January 8, 2023, China lifted strict control regulations for imported goods such as testing, sterilization and quarantine. This is expected to increase import demand and consumption of Chinese goods. Vietnam's shrimp exports to China are expected to increase in the first months of 2023.
Author:

[email protected]
www.seafood.media