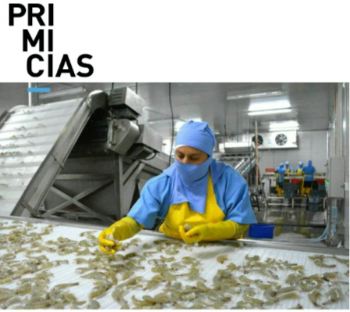 Referential image of a shrimp production plant in Ecuador, in 2020. - Photo: Ministry of Production / Primicias
Shrimp exports will break all-time record

ECUADOR
Thursday, November 17, 2022, 09:00 (GMT + 9)
Ecuadorian shrimp exports could close the year at approximately USD 7,000 million, the highest figure in the Central Bank's historical record.
In the first nine months of 2022, shrimp exports amounted to USD 5,676 million, which means a growth of 54% compared to the period January-September 2021, according to the Central Bank. And it is a value that is 7% higher than total shrimp exports in 2021, which were USD 5,323 million.
In this context, it is very possible that shrimp exports will be around USD 7,000 million in 2022, says economic analyst José Orellana.
If the forecasts are met, shrimp will rank as the main product in Ecuador's non-oil exportable basket for the fourth consecutive year.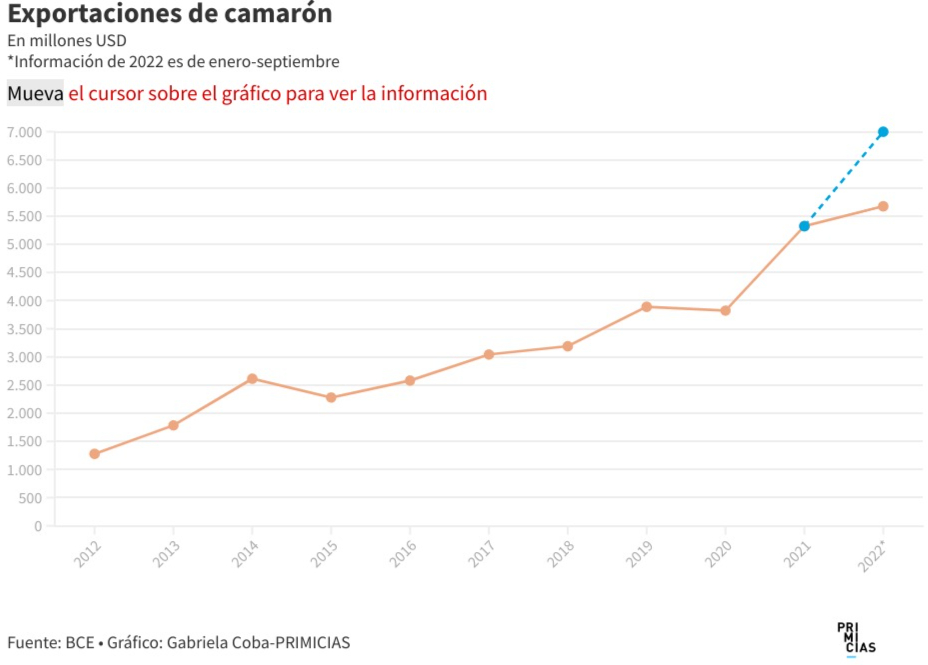 Shrimp that does not sleep
The good performance of the shrimp sector is due to several factors, explains Xavier Rosero, vice president of the Ecuadorian Federation of Exporters (Fedexpor). One of these factors is the injection of capital that producers have made in recent years and that is already beginning to yield results. The credit for shrimp farming activities and larvae laboratories amounts to USD 846 million in the period January-September 2022, according to the Association of Private Banks of Ecuador (Asobanca). This is a 49% increase in the volume of credit for the sector, compared to the same period in 2021.
That money has been earmarked for research and implementation of new technology to improve productivity. For example, the aquafeed companies Nicovita and Skretting have invested in the development of research centers to improve production.
Skretting
invested USD 6.1 million in an innovation center, inaugurated on October 17, 2022. The aim of the project is to increase knowledge about shrimp nutrition and health, to
"better understand how shrimp can grow bigger". quickly and are bigger,"
says the Norwegian company.
The strategy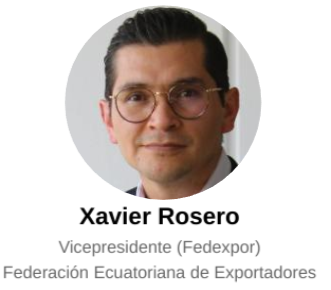 Rosero explains that the increase in investment in the shrimp sector
"responds to a market diversification strategy, through the expansion of installed capacity in order to develop new lines of products with added value."
In the last year, Ecuadorian shrimpers entered the supermarket segment in the United States. This implies being able to offer processed shrimp, that is, peeled and headless.
Ecuadorian shrimp reaches approximately 70 countries, with China being its main market. The strategy of the shrimp sector has coincided with the increase in world demand for shrimp, which has pushed the price of the product up. "After the pandemic, consumers have begun to prioritize safer foods, such as shrimp, which have higher nutritional value and traceability systems," adds Rosero.
Exports also stand out in 2022, driven by the re-entry of Ecuadorian shrimp to Thailand. In March 2021, Thailand suspended Ecuadorian shrimp imports until safety and biosecurity protocols were formalized.
Author/Source: Gabriela Coba / Primicias (read the complete article here) | Only available in Spanish