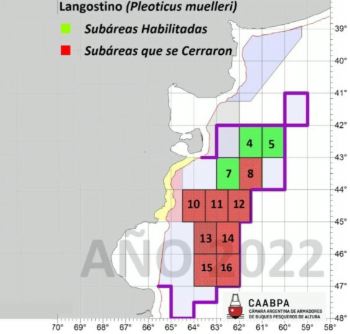 At the moment the fishing subareas open to shrimp fishing will be 4-5 and 7 (Image: Dr. DiePgo García Luchetti /CAABPA)
Argentine shrimp: On September 21, fishing season will ends for the year 2022

ARGENTINA
Monday, September 19, 2022, 01:30 (GMT + 9)
Last dispatch will be until September 21 at 11:59 p.m. and the final closure for shrimp fishing on September 30 from 7 p.m.
As a result of a virtual meeting held last Friday, September 16, with representatives of the Federal Fisheries Council, the National Directorate of Fisheries Coordination and Control was informed that the following measures have been ordered:
1. Order the closure of the commercial shrimp (Pleoticus Muelleri) fishery in Subareas No. 8, 12, 15 East and 16, starting at 7:00 p.m. on the date of the date.
2. Order the suspension of the dispatch to the Prawn (Pleoticus Muelleri) fishery in waters of national jurisdiction from 11:59 p.m. on September 21, 2022.
3. Provide that no vessel may carry out fishing operations directed at the Prawn species (Pleoticus Muelleri) in waters under national jurisdiction beyond 7:00 p.m. on September 30, 2022.
The order has the signature of Dr. Julián Suárez, national director of the DNCyFP, was addressed to the Head of the Fishing Auxiliary Police Department of the Argentine Naval Prefecture Principal Prefect Rodolfo José Cattaneo -¬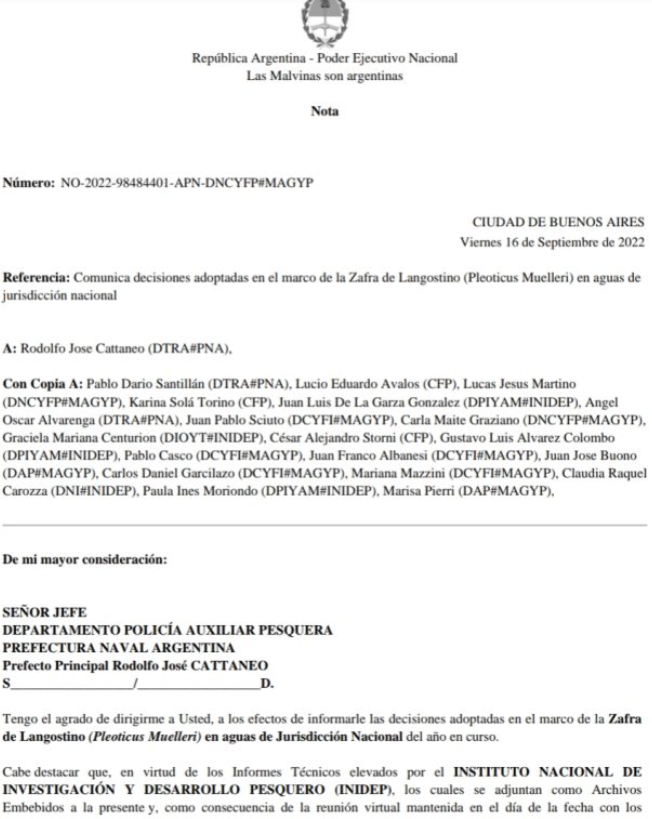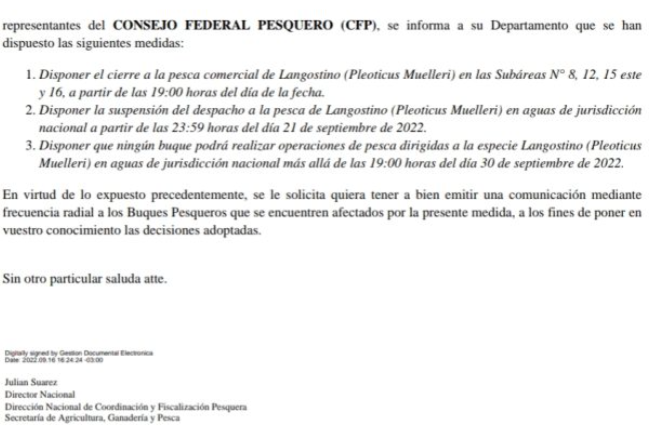 [email protected]
www.seafood.media