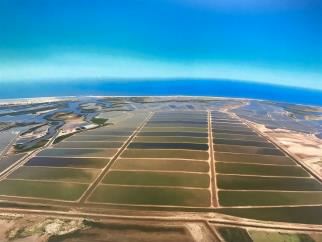 Aerial view shrimp farm in Sinaloa (Photo: El Universo)
Mexican shrimp sector rejects FTA with Ecuador

MEXICO
Friday, November 25, 2022, 03:00 (GMT + 9)
Mexico produces between 180,000 and 185,000 tons of farmed shrimp and this generates sales of 1,000 million dollars.
The lack of electricity to operate the aquifer farms, as well as the unfair competition from imports from Ecuador, force the shrimp industry in Mexico to slow down its growth potential, which it has up to four times more, with the growing demand from the United States. and China, alerted businessmen from the National Council of Manufacturers of Balanced Food and Animal Nutrition (Conafab).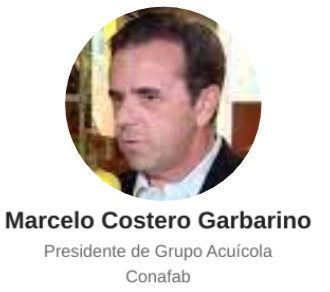 Marcelo Costero, president of Grupo Acuícola of Conafab, specified that Mexico produces between 180,000 and 185,000 tons of shrimp farmed and this generates sales of 1,000 million dollars.
It is an industry that grew at a rate of 20% per year, but in the last two years, it has undergone a stabilization process to avoid oversupply in the market, since shrimp from Ecuador have entered illegally; coupled with the fact that investments for infrastructure for the development of shrimp farming farms have been undermined, since there is a lack of energy supply and the voltage does not reach, explained Fernando Espinoza, president of the aquaculturists of Sinaloa (the entity with the highest production nationwide ).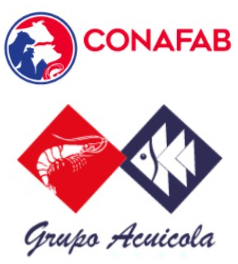 At a press conference, they highlighted that Mexico has the potential to grow up to four or five times what it currently produces to serve the national, American and Chinese markets, but "we don't want that unfair competition coming from Ecuador."
The industry exports between 35,000 and 40,000 tons of large shrimp, mainly to the United States, and China is another market that is booming in foreign purchases.
They highlighted, as an industry, they are the second most important, after corn in Sinaloa, and surpassed potatoes, tomatoes, cucumbers, since large cities demand marine products (seafood and fish), associated with better health, whose consumption is has raised.
"The farms require large amounts of investment and this has been a bottleneck, a lot of initial investment is required to set up shrimp farms on the coast. You have to make the ponds, talk between 10 and 15,000 dollars per hectare in the semi-intensive system and in intensive, the investment can go up to 40,000 or 50,000 dollars per hectare. The challenge is the initial investments and not everyone can do it," Marcelo Costero said.

Also, there is the health challenge to have pups and accelerate production, and that is that China is the largest consumer in the world.
Aquaculture farms require electric power to supply air to the crops, an important parameter to improve productivity, however, the power supply is sometimes unavailable or the voltage is inadequate.
Fernando Espinoza flatly rejected any commercial exchange with Ecuador, for facing unfair competition, since he argues that that government grants subsidies to offer a product at a lower cost compared to the production price of the Mexican industry. Ecuador seeks to finalize a Free Trade Agreement with Mexico to be a full member of the Pacific Alliance.
Author: Lilia González / El Economista (translated from original in spanish)
[email protected]
www.seafood.media