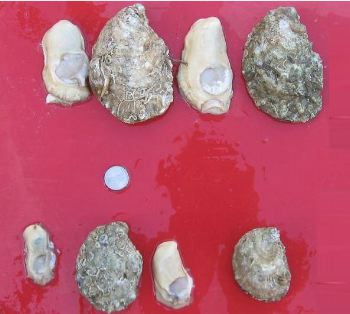 Triploid (top) and diploid (bottom) oysters [Photo: L. Degremont/The Atlantic]
Triploid varieties solve 'oyster shortage season'

CHINA
Friday, August 05, 2022, 07:00 (GMT + 9)
Consumers have a soft spot for oysters with "fat and strong" oysters. How are these oysters cultivated?
It is understood that from May to October every year is the "oyster shortage season" in the usual sense. Since oysters in many parts of our country are hermaphroditic (diploid), oysters are in the spawning period during this time every year, and they are thinner at this time. , poor market efficiency. To solve this problem, seedling cultivation is the key.
Left: Diploid and triploid oysters harvested after eight months of growout in off-bottom gear at commercial farms.(Photo: Huiping Yang, Natalie Simon, and Leslie Sturmer) Right: The production of natural triploid zygotes using tetraploid males and diploid females (Image: Guo; Ximing (Glassboro, NJ), Allen, Jr.; Standish K. (Mauricetown, NJ)
"In terms of seedling breeding, we have joined forces with 34 universities and 16 scientific research institutes across the country to set up a marine research institute to work together on the selection and breeding of fine seedlings." According to Yu Zhiyang, Chairman of Dalian Yuyang Group and responsible for "Hema Hema Village", the "Hema Village at Sea" has established a systematic R&D team and a seedling raising mechanism. The current triploid variety of oysters is bred by crossing tetraploid and diploid oysters. They belong to males and do not have reproductive function. They can only grow all the time. They are large and fast, and can increase production by 30% compared to diploid— 100%, breaking the previous season routine. "In the next step, we will also make great efforts in the research and development of sea cucumber, scallop and conch seedlings, and cooperate with fishery colleges across the country to cultivate a better generation of seedlings." Yu Zhiyang said.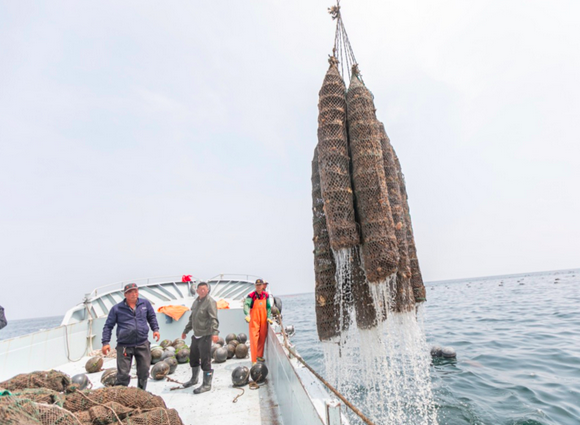 Photo by Yan Li (消费日报)
In addition to breeding, the geographical location of 39 degrees north latitude also creates conditions for oysters to be "fat and strong". According to reports, the temperature and salinity of the sea area at 39 degrees north latitude are lower than other sea areas. For example, the salinity of other sea areas is about 30%. The salinity here is between 26% and 28%, which is an excellent "comfort zone for oyster farming". After the oyster and shellfish have been cultivated for 18 months, the meat quality and taste are particularly good.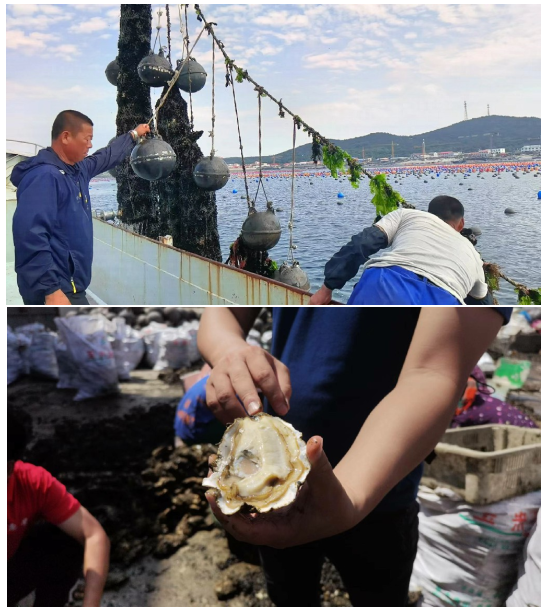 Photo by Yan Li (消费日报)
On July 27, on the fishing boat, the staff opened a hanging oyster breeding cage, took out any oyster that weighed more than half a catty, and pryed open an oyster. The meat was plump, tender and full. Wang Yingchun, deputy general manager of Yuyang Group, said while eating raw oysters: "Eating raw oysters at sea does not require dipping in lemon and mustard like in a restaurant. The oysters themselves are very fresh."
Author/Source: Yan Li/Consumer Daily 消费日报
[email protected]
www.seafood.media