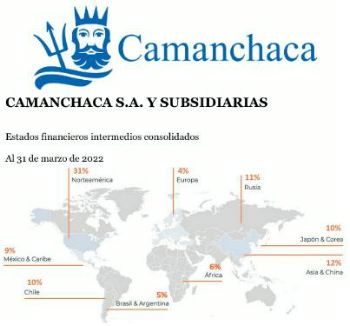 Camanchaca highlighted the rise of its Fishing division with 16% growth
Better performance of the main businesses boosts Camanchaca's results in the first quarter of 2022

CHILE
Friday, May 27, 2022, 01:50 (GMT + 9)
• Quarterly revenues reached US$ 157 million, 6% higher with Fishing rising 16%.

• As a result of the entry into operation of the new frozen plant in Coronel, there was a higher volume of sales of frozen horse mackerel, which, added to the better prices of salmon, raised the quarterly EBITDA to almost US$11 million, US$ 8.6 million higher than the same quarter of 2021.

• Net income was US$1.2 million, better than the loss of US$8.8 million a year earlier.



Photo: Camanchaca
Santiago, May 26, 2022.- The fishing and aquaculture firm Camanchaca reported its financial results corresponding to the first three months of 2022, exhibiting a better start to the year with consolidated revenues of US$ 157 million, 6% higher than those of the same period of the previous year. The increase in its Fishing division stood out with 16% growth, while Crops fell 39%. With this, the gross margin on revenues rose from 4% in the first quarter of 2021 to 9.2% this year.

|




The higher volume and better prices in the sale of frozen horse mackerel, as well as an improvement in the results of Salmon, were behind the results of the quarter. Atlantic salmon prices reached all-time highs and extraordinary mortalities were half of those in the first quarter of 2021. This allowed EBITDA to rise by US$8.6 million, reaching US$10.7 million.

In this way, the Company recorded a net profit of US$ 1.2 million during the first quarter of the year, compared to a loss of US$ 8.8 million in the same period in 2021.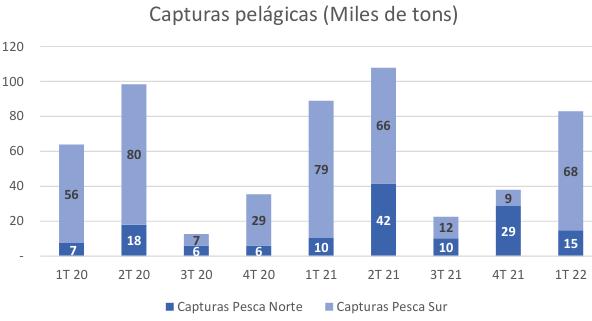 In the Fishing division, 31,000 tons of jack mackerel were caught in the central-south zone, a third of the annual quota, and sales of the frozen format reached 13,687 tons, more than triple those of 1Q 2021 as the new frozen plant in Coronel. This allowed taking advantage of the benefits of a higher volume and price of frozen horse mackerel, which exceeded US$1 per kilo. In the north, catches were delayed due to extensions of the closures typical of the first two months of the year, but they remain below normal historical levels. There were no industrial captures of anchoveta, as it was very close to the coastline, which was mitigated by greater purchases of artisanal fishing which, added to greater industrial captures of mackerel, made it possible to increase the total landings of raw materials by 41%, up to 15 thousand tons. Meanwhile, sardine catches in the central-south zone reached 34 thousand tons, similar to 1Q 2021 but with a high oil yield that also had price increases.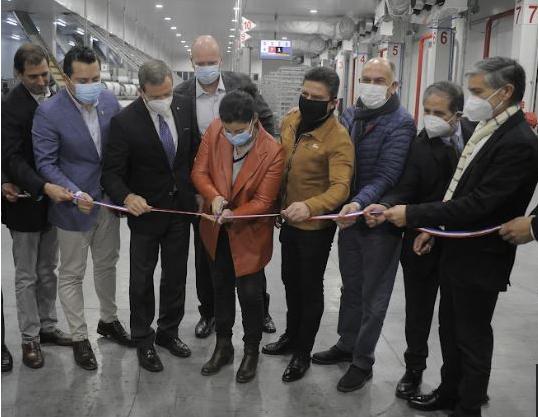 Opening Ceremony on Wednesday of the Coronel plant (Photo: Camanchaca)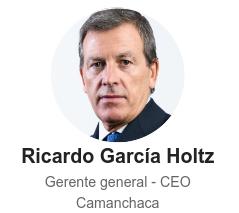 "The entry into operation of our new frozen plant in Coronel marks a before and after in our fishing activity in the center-south, and triggers the good results for our subsidiary Camanchaca Pesca Sur. This plant has state-of-the-art technology and the capacity to process 650,000 kilos of jack mackerel per day, and our plan is to produce around 50 million kilos during the year, which will give a fish ration to around 150 million people in the world. Frozen horse mackerel has gained a lot of competitiveness this year, as its relative price has dropped compared to other proteins.

In northern catches, the situation is better, but not good, as deficits persist with respect to fishing history, and it is confirmed that the impediments to drilling are not compensated by the purchase of artisanal fishing. Without prejudice to that, we have more than doubled the landings of artisanal fishing, among others, thanks to the transport ship that receives this fishing within its zone", highlighted the general manager of Camanchaca, Ricardo García.

In Salmon - which already reported its results for the first quarter this month - Atlantic salmon harvests decreased by 11.5%, reaching 8,108 tons WFE, affected by low oxygen in one of its farming centers, which forced to advance their harvests, affecting the costs of Atlantic salmon this quarter and which rose to US$ 4.36/Kg live fish. Sales of Atlantic salmon rose to almost 10 thousand tons WFE, and at a price 42% higher, reaching US$8/Kg.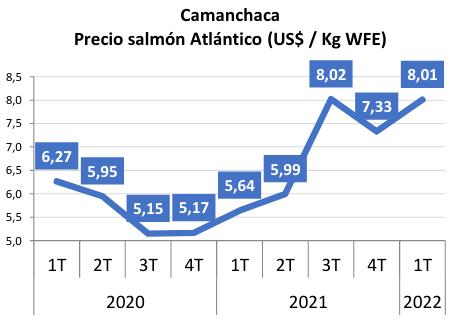 Camanchaca maintains an estimate of total harvests for its Salmon division of 51 thousand to 54 thousand tons WFE for 2022, with 45-47 thousand of Atlantic salmon and 6-7 thousand of Coho.

As for cultivation, mussel harvests decreased 10.7% in the period and accumulate 10 thousand tons processed, which affected finished products that fell 16.4%, also impacted by labor shortages in Chiloé. Mussel sales were hampered by the Russian and Ukrainian market closures.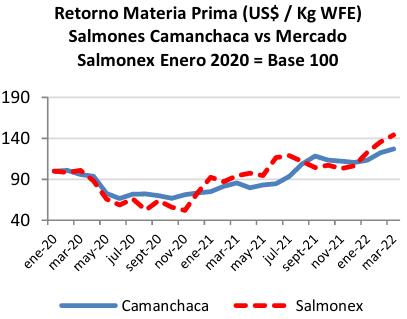 According to García, "This is a much better first quarter than what we had in 2021, but still far from our consolidated expectations. Better, but not enough highlights the good evolution that Pesca Sur has, operating on the healthy and sustainable fishery of horse mackerel, and with recovery of volumes of artisanal sardine fishing. They also highlight the excellent conditions of the demand for salmon, which leads it to register prices at historical maximums. We still have to improve anchovy catch landings in the north, and control the risks associated with environmental conditions in salmon farming in the summer, both things for which we have plans and strategies in full deployment."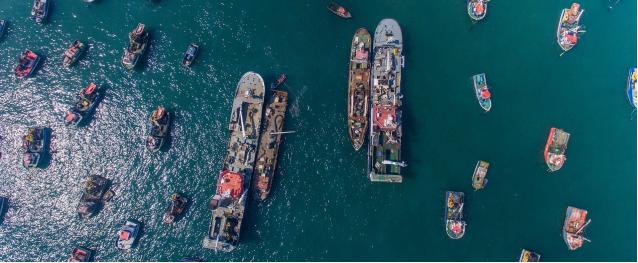 Photo: Camanchaca
[email protected]
www.seafood.media