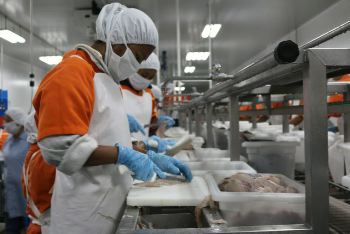 Photo courtesy from Agexport
Seafood exports generate more than 100 million US dollars
GUATEMALA
Wednesday, May 25, 2022, 07:00 (GMT + 9)
Guatemala hopes to use innovation to increase the added value of aquatic products
Aquaculture and fishing is one of Guatemala's most important export industries, generating more than US$100 million in revenue for Guatemala last year. Guatemalan aquaculture and fisheries production will grow by 12 to 13 percent this year, according to the Guatemalan Association of Exporters (Agexport).
Guatemala's "Free Press" reported that in 2021, Guatemala's aquaculture and fishery exports will reach 134 million US dollars, and exports to Spain, the United States, Mexico, the Netherlands, France, South Africa, Portugal and other countries, of which 78 million US dollars are shrimp products. Guatemala has developed an intensive shrimp farming system that will boost shrimp exports in 2021, said Alexander de Beausset, vice-president of the aquaculture and fisheries department at Agexport in Guatemala.
In the wake of the COVID-19 pandemic, Guatemalan aquaculture and fisheries are working to increase the added value of their products through innovation. According to professionals, sustainability, innovation and added value are the 3 key factors for the development of aquaculture and fisheries in Guatemala. Guatemala's aquaculture and export fisheries are highly technical and employ more than 13,000 people, most of whom are women.
Video courtesy from Agexport
Agexport mentioned that there are about 150 medium-sized shrimp producers in the southern coast of Guatemala, and it is necessary for relevant departments to provide them with professional knowledge and skills training, especially in water management, in order to ensure the sustainable development of the industry.
In addition, from June 8th to 10th this year, the Agexport Aquaculture and Fisheries sector will hold a workshop aimed at promoting further development of aquaculture and fisheries in Guatemala. The seminar will attract at least 30 international participants and become an experience exchange platform for aquaculture masters at home and abroad.
Source: Free Press
[email protected]
www.seafood.media