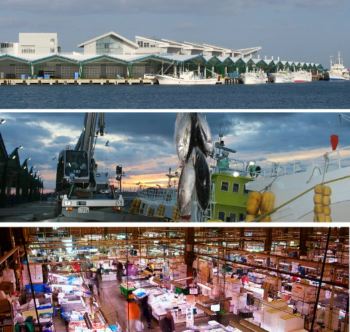 Shiogama Fish Market
Can lean Japanese fish and sushi survive global warming?

JAPAN
Wednesday, November 23, 2022, 07:00 (GMT + 9)
Global warming is causing sea temperatures to rise, and this is having a devastating effect on Japan's fisheries. The fish are getting thinner and the fish that were supposed to be caught up until now are moving north. Experts warn that Hokkaido will eventually run out of salmon.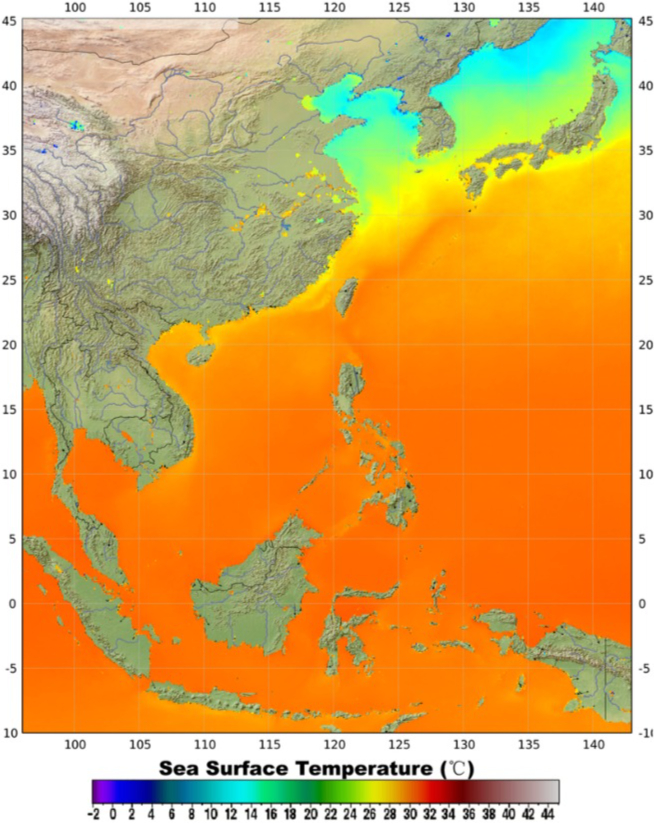 Averaged winter sea surface temperatures in the western Pacific Ocean using satellite data. The Kuroshio current is warm, compared to cooler waters in the Yellow Sea, and Sea of Japan.
In Shiogama City, Miyagi Prefecture, huge bluefin tuna are lined up in the market and boxes of squid and flounder are sold. Early in the morning, shoppers gaze at the fish that just landed a few hours ago. Despite the port city's rich bounty, stories from fishermen and wholesalers point to a bleak future for Japanese cuisine. Miki Seino, who works in the market, points to a saury and says with a weary expression, "Compared to a few years ago, the catch has decreased and the fish are getting thinner. I heard that the rise in water temperature is weakening fishing in the Tohoku region. In addition, the price of fish has risen with difficulty," the Fisheries Agency said. Changes in the marine environment due to global warming are cited as the cause of Japan's declining catches of saury, squid, and Pacific salmon. A mass of warm water emerges in the Kuroshio Current in the Pacific Ocean, pushing migratory spawning routes for papards offshore, where food is scarce. This leads to reduced captures and lower quality.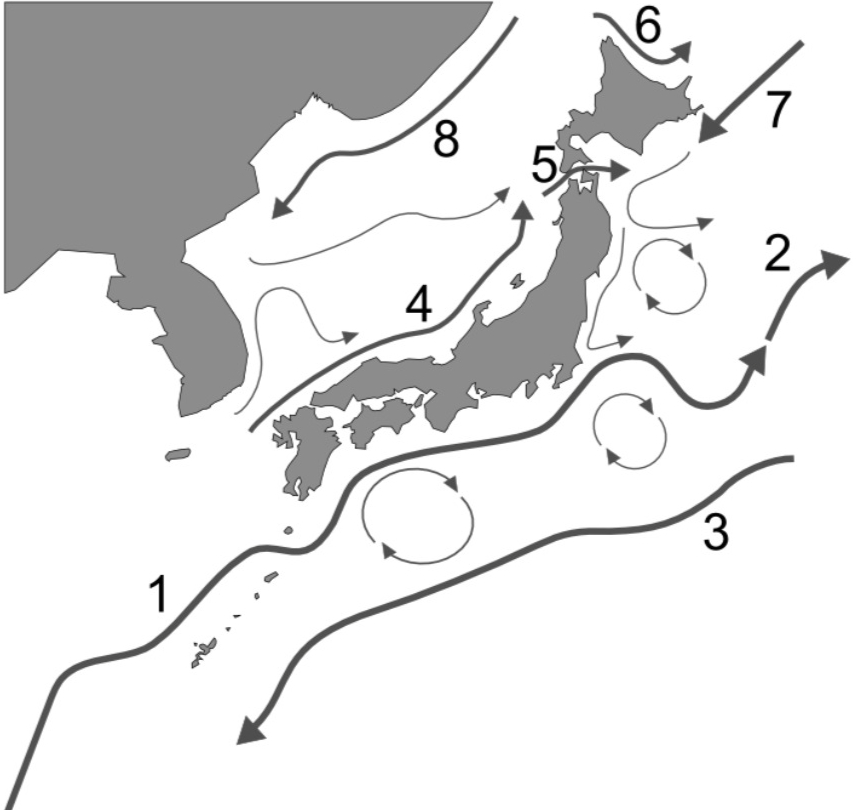 The ocean currents surrounding the Japanese archipelago: 1. Kuroshio 2. Kuroshio extension 3. Kuroshio countercurrent 4. Tsushima Current 5. Tsugaru Current 6. Sōya Current 7. Oyashio 8. Liman Current (Source: Wikipedia)
Reasons why a great catch of skipjack is not pleasant
On the other hand, the fishing villages of Kochi prefecture are experiencing large catches of high-fat skkipjsck 'bonito'. But this may be a "warning" rather than a blessing. Winter sea surface temperatures in the county's Arched Bay have reached 2 degrees Celsius in the last 40 years. This means more food for the fish. However, in the long term, the mineral-rich water will not rise to the surface and the number of small fish that feed on it will decrease, leading to a decrease in the number of skipjack tuna.
Shinichi Ito, a professor at the University of Tokyo's
Institute of Atmospheric and Ocean Research
, said rising water temperatures have caused some species of fish, such as yellowtail and Spanish mackerel, to land in places different from those of the past.
"These fish are caught further north than 10 years ago, which can be said to be the result of climate change,"
Ito said
. He also said salmon, a popular sushi ingredient, is dangerous.
"The fish can't regulate their own body temperature, so they have to move north."
According to Ito's simulations of seawater temperature changes, even Hokkaido's oceans may be devoid of salmon within a few decades.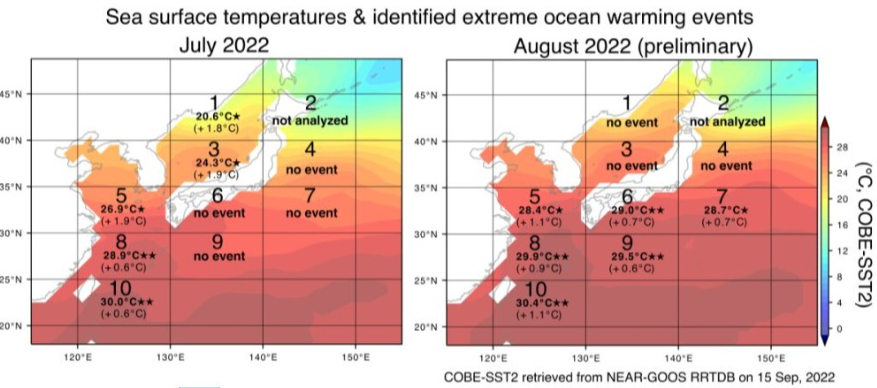 Global warming at least doubled the probability of extreme ocean warming around Japan by National Institute for Environmental Studies. (click on the image to enlarge)
"The disappearance of some species due to these changes will inevitably affect the Japanese diet. At the same time, it means that the number of non-native species will disappear." In other words, it negatively affects the growth of scallops, clams, oysters, crabs, and shrimp. Ito continues, "Most people don't realize how serious this problem is. Whatever happens in 2100 after you're gone, it's in the distant future, not the immediate problem. The aforementioned Seino is also Worried about how long the current situation will last." Lastly, he says, "Until now, we could only eat fish in the summer, but now we can sell it from fall to winter."
Professor Shinichi Ito points out that some species of fish, such as horse mackerel and Spanish mackerel, are being landed in different places due to rising water temperatures. "These fish are caught further north than 10 years ago, which can be said to be the result of climate change," Ito said. He also said salmon, a popular sushi ingredient, is dangerous. "The fish can't regulate their own body temperature, so they have to move north." According to Ito's simulations of seawater temperature changes, even Hokkaido's oceans may be devoid of salmon within a few decades. "The disappearance of some species due to these changes will inevitably affect the Japanese diet. At the same time, it means that it will dispense with the number of non-indigenous species."