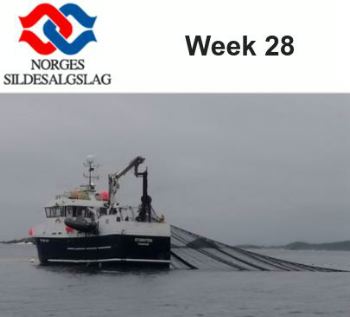 Photo: Daniel Katla /Norges Sildesalgslag
The Norwegian Pelagic Fishing Course in Week 28

NORWAY
Tuesday, July 20, 2021, 06:00 (GMT + 9)
Bad weather affected the mackerel fishery in the north

Mackerel:

For the mackerel fleet in the north, it has been a week marked by bad conditions and the fleet had a couple of days ashore with the storm that hit Lofoten on Thursday. A couple of boats took loose night until Sunday, but with simple conditions the mackerel would not show up again and we have only one catch reported since Thursday.

In the first part of the week, the fleet was at work east of Værøy and into the Vestfjord. We have registered 539.5 tonnes of mackerel with an average weight between 450 -500 grams. From the Westfjords, 325 hours of NVG have also been reported, an average of between 240 and 280 grams.
Photo : Daniel Katla /Norges Sildesalgslag (2021)

For the coming week, we expect less activity from this area as a number of vessels and facilities take a holiday, nor do the weather forecasts look promising for the remaining boats.

From the mackerel fleet in the south, a total of 119.5 hours have been reported from Hjelmeland in the south to Bremanger in the north. 67.5t are registered for fresh and 52t for freezing. For fresh it flows well and it is 26 hours locked as of today, Monday. The size varies from 250gr to 450gr, during the week an increasing proportion of smaller fish was reported.

The North Sea: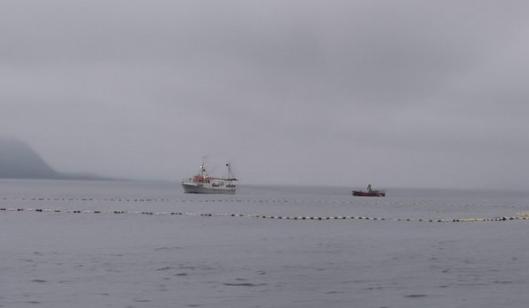 Photo : Daniel Katla /Norges Sildesalgslag (2021)
From "edge fishing", more than 1700t have been registered, divided into 9 catches. 1495t Norway Pout, 231t Blue Whiting, 16t Herring smelts and 5t Silvery pout. In addition, we have a catch of 40t Herring.

A couple of boats have also visited the North Sea herring and more than 1400 hours have been registered, divided into 5 catches. Various gatherings are reported, but for some it has faltered and there have occasionally been relatively usable day catches

Author / Source: Camilla Klævold / Norges Sildesalgslag (translated from original in norwegian)
[email protected]
www.seafood.media