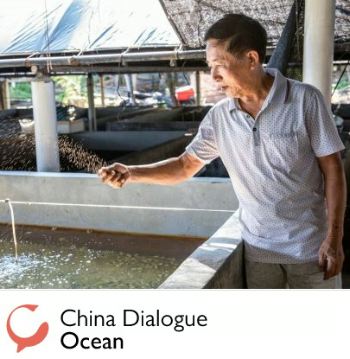 Photo courtesy from China Dialogue Ocean
To meet global food demand, aquaculture needs more policy support and research

CHINA
Friday, May 13, 2022, 06:40 (GMT + 9)
The following is an excerpt from an article published by China Dialogue Ocean:
Aquaculture is an important pillar in global food security. But scarcity of land and water for producing feed mean more policy support and innovation are needed.
Globally, per capita fish consumption has doubled since 1960. The proportion of farmed fish compared to wild-caught grew from negligible to 52% of all fish for direct human consumption by 2018, according to the UN Food and Agriculture Organization. Aquaculture is hugely important for food and nutrition security, livelihoods and employment. The potential of the sector, and the role it will play in future food systems, is becoming ever more vital.
Despite freshwater aquaculture providing 77% of all edible aquaculture production (excluding aquatic plants), it has been much less published about than the saltwater equivalent. To raise awareness of its importance, Zhang Wenbo at Shanghai Ocean University joined forces with experts from institutions including the University of Stirling in the UK, Michigan State University in the US, and the World Fish Centre, to write a paper on aquaculture growth. Published in Nature magazine this March, it concluded that growth will continue to focus on land-based, freshwater operations – both in terms of the actual farming, and obtaining the resources to sustain it.
Freshwater and saltwater aquaculture are both important for ensuring global food security. They both face environmental and resource limitations, and require more technological innovation and research inputs for their sustainable development.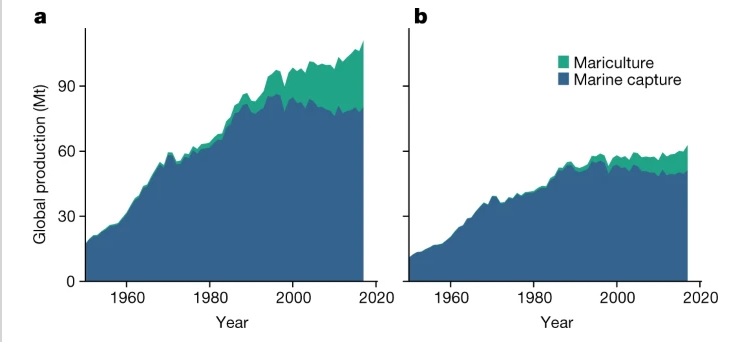 a, b, Harvests (live-weight production) (a) are converted to food equivalents (edible production) (b). In b, there is also an assumption that 18% of the annual landings of marine wild fisheries are directed towards non-food purposes - Photo courtesy from Nature
Two years before Zhang Wenbo's paper, another, led by Christopher Costello from University of California's Santa Barbara and Dr. Cao Ling from Shanghai Jiaotong University, had appeared in the same publication. It noted that as food demand rises, human activities on land could exacerbate climate warming and ecological damage. Concluding that saltwater aquaculture has huge potential for food production, it modelled a potential increase in food output from the ocean of 36–74% by 2050, with most of that growth coming from aquaculture. That would be enough to provide 12–25% of the increase in global demand for meat, according to the paper.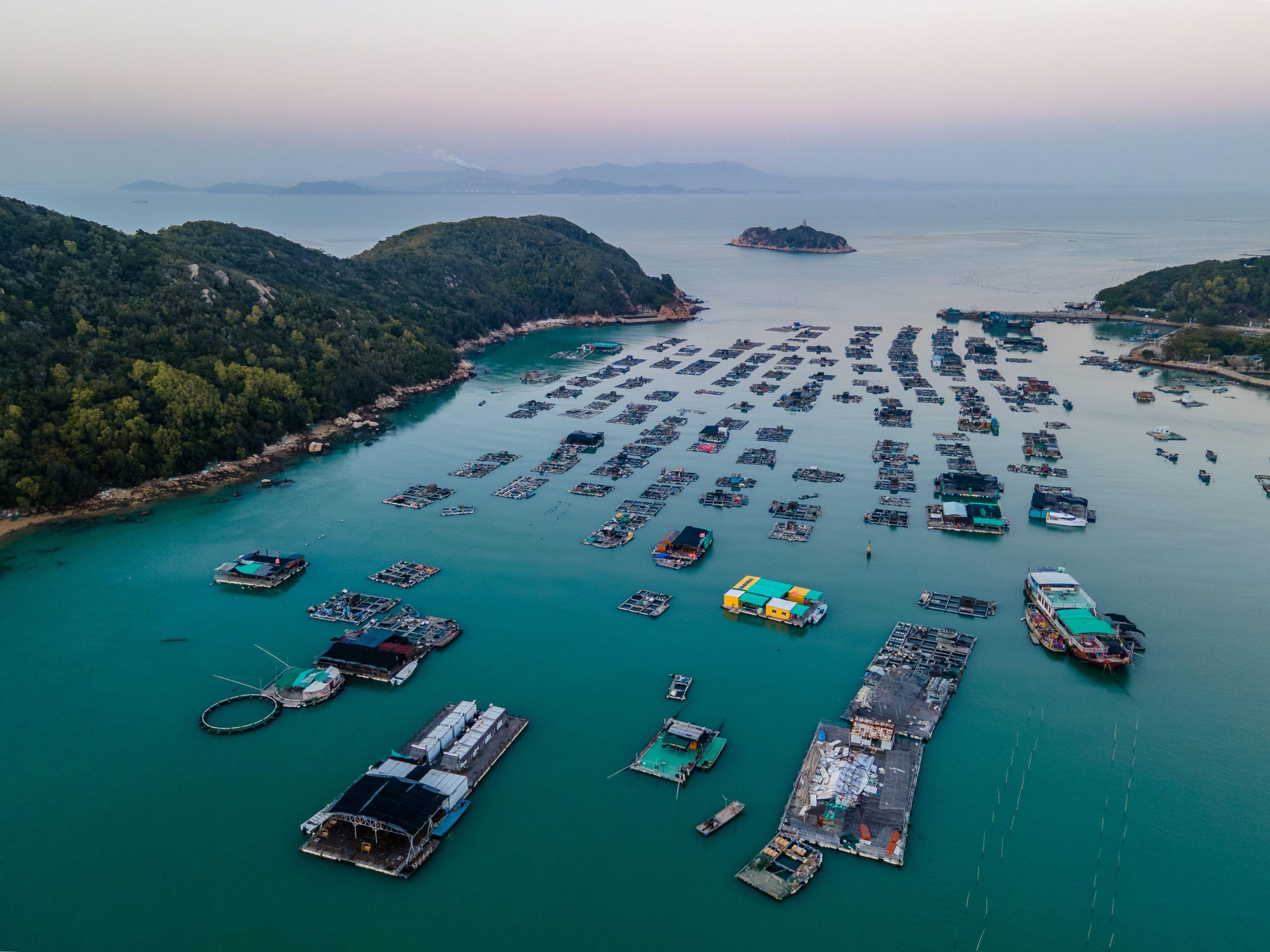 Aquaculture in Fujian province. Most of China's saltwater aquaculture is currently concentrated in bays such as this. Photo courtesy from China Dialogue Ocean
Zhang's new paper stresses that the growth potential of freshwater aquaculture cannot be ignored, and will keep playing the dominant role in global aquaculture for a long time. By virtue of its relatively low cost and low technological demand, freshwater aquaculture has already proven to be an affordable, accessible and stable source of food, particularly in the global south, where most future growth of aquatic food consumption is set to occur.
Both fresh and saltwater aquaculture are seeking to grow sustainably. However, many believe that aquaculture as a whole has been marginalised in the global food system conversation. A lack of academic attention may hinder the realisation of its potential as the world population approaches 10 billion and countries strive to achieve the UN's Sustainable Development Goals. (continues...)
Author / Source: Han Qing / China Dialogue Ocean / Read the full article by clicking the link here
[email protected]
www.seafood.media