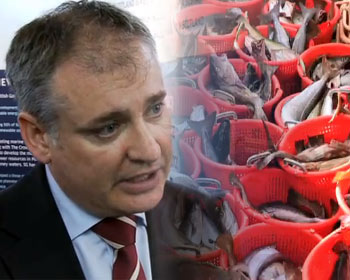 Scottish Fisheries Secretary, Richard Lochhead, was prohibited from attending the EU meeting. (Photo: YouTube, scottishgovernment/hughsfishfight/FIS)
Scotland's request to attend EU fisheries policy talks declined

UNITED KINGDOM
Tuesday, March 01, 2011, 02:50 (GMT + 9)
Land-locked countries are being allowed to talk about the European Union's (EU) fisheries policy before its own ministers, the Scottish Government protested. Even though Scotland runs Europe's biggest whitefish fleet, the SNP administration said, its request to attend the discussions on the UK's behalf was rejected.
Fisheries Secretary Richard Lochhead wanted to attend in order to underline the country's efforts to decrease discards but his request to European Fisheries Commissioner Maria Damanaki was declined and that the UK Government is "unwilling" to let him attend the discussions. He wanted to share the country's experiences at the meeting, which will help shape EU policy on dealing with the wasteful practice of discards, reports The Press and Journal.
"Commissioner Damanaki has expressed her desire to work closely with Scotland on the issue, therefore it is very disappointing that my request to take part in a key EU meeting on discards has been declined," Lochhead said. "If Scotland is not there to bring the experience of our industry to the table, I fear the EU will make its usual mistakes and propose measures that are counter-productive."
"Incredibly, land-locked countries such as Austria and the Czech Republic have been invited to take part - despite their lack of a coastline, never mind a fishing fleet," he insisted.
Lochhead added that he will address Damanaki "at the earliest opportunity" to share "progress" and press for greater involvement.
UK Fisheries Minister Richard Benyon, however, is expected to partake in the discussions, the Scottish Government informed.
Meanwhile, the commissioner is this week expected to reveal a proposal on banning discards.
The Scottish Fishermen's Federation (SFF) has already rejected them, which it claimed had been rushed.
"The commissioner's proposals amount to a draconian step too far. They are a knee-jerk in response to populist TV coverage which has accurately described the problem, but which offers no solutions," complained Chief Executive Bertie Armstrong.
"Industry shares the public's opposition to discards. There have been no talks with the industry about these measures, which could come in at the start of 2013 and be in force two years later. There would be a restriction in days at sea and catching effort, and this would inevitably lead to a much smaller fleet," he stressed.
Related articles:
- Scotland expands discard reduction scheme
- 2011 shows good possibilities for fishery management shifts
- Numerous member states meet to discuss aquaculture
By Natalia Real
[email protected]
www.seafood.media