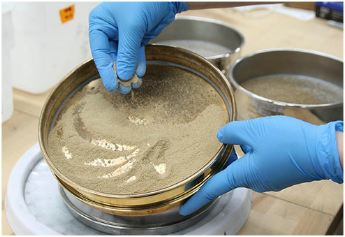 Shrimp larvae. (Photo: The Trū® Shrimp Company)
Trū Shrimp Company to set up first shrimp hatchery

(UNITED STATES, 11/2/2017)
The Trū® Shrimp Company, an affiliate of Ralco, has announced it will build its first hatchery in Luverne, Minnesota, sharing the campus with the planned shrimp production facility.
The 60-acre Luverne campus near Interstate 90 in southwest Minnesota will house Luverne Cove Hatchery, a 42,000 square-foot facility, a free-standing shared water treatment facility and Luverne Bay Harbor.
"From a bio-security aspect we have been concerned about a hatchery being close to a harbour," explained Michael Ziebell, President & CEO of trū Shrimp.
Luverne Cove Hatchery will provide for spawning and house larviculture tanks where small post larvae shrimp grow until they are mature enough to be transferred to a harbour.
The hatchery will be able to raise 2 million post-larvae annually, which is enough to supply two fully operational harbours and provides future redundancy and it is projected to employ 20 people and the harbour will employ 60.
Meanwhile, Trū Shrimp and Ralco continue to expand in Marshall and Balaton, Minnesota. Ralco is currently consolidating executive and support services within leased office space in Marshall, which remains its headquarters. For its part, Trū Shrimp is presently constructing Balaton Bay Reef Training and Engineering Center, a multi-million-dollar expansion in Balaton.
Trū Shrimp had been planning to build a hatchery in Marshall. "Based on previous bio-security assumptions, we thought we could not build a hatchery and a Harbor in Marshall" stated Ziebell. Now we can turn our attention to Marshall becoming home to a future Harbor and hatchery."
The city of Marshall has been working diligently to lay the groundwork for trū Shrimp facilities both with Commerce Park development and improvements to the municipal water systems.
"We recognize the investment that Marshall and its economic development leadership has made into Commerce Park industrial area, and we intend to utilize the area. Marshall is in our plans for future expansion of trū Shrimp." Knochenmus said.
Related article:
- Tru Shrimp sets up plant to start producing shrimp in Minnesota

[email protected]
www.seafood.media
Information of the company:
Address:
330 3rd Street
City:
Balaton
State/ZIP:
Minnesota (MN 56115)
Country:
United States
Phone:
+1 844-220-7574
More about: