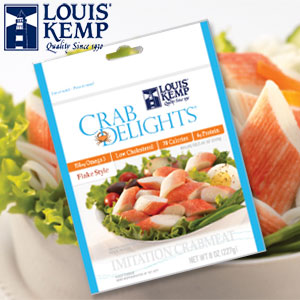 Louis Kemp's surimi seafood is a good source of omega-3s.
The Superior Flavour of Alaska Pollock Surimi

(UNITED STATES, 7/29/2015)
Louis Kemp's Crab Delights and Lobster Delights are made with premium wild Alaska pollock. These delicious and nutritious alternative to crabmeat and other shellfish are ready-to-eat, whether you use them at home or on the go, in your favourite salad or more adventurous recipes.

Surimi seafood is real seafood made with Alaska pollock, a mild whitefish related to cod, which is flavoured with crab or lobster. To make surimi seafood, Alaska pollock is finely minced and then blended with other ingredients such as starch, salt, natural crabmeat, and egg white. It is then formed, cooked and cut into the various shapes and styles you find at your local grocery store.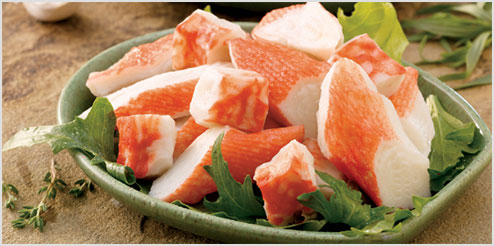 Surimi seafood is fully cooked and ready to eat right from the package, making it convenient and ready to use in any recipe.
Surimi seafood is an easy and economical way to add the nutritional benefits of seafood to your diet. A good source of omega-3s that is low in cholesterol and calories, surimi seafood is also an excellent source of high-quality protein and naturally low in fat.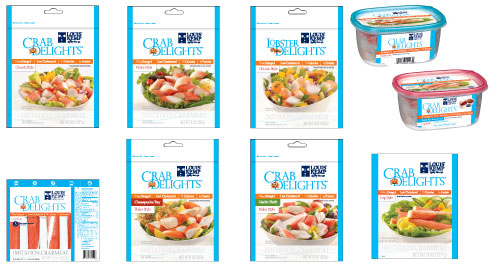 Crab Delights and Lobster Delights are made with premium wild Alaska pollock.
Surimi is fully cooked, so it requires little or no preparation, and there are no bones or shells to remove, so there's no waste. Surimi seafood delivers the delicious flavour of crab and lobster in a wide variety of hot and cold recipes, while saving both time and money.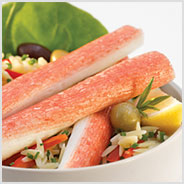 Crab Delights Leg Style.
Crab Delights comes in 8 appetizing varieties: Flake Style, Chunk Style, Leg Style, Flake Style Tub, Snack Kit Tub, 5 Pack Legs, Garlic Herb and Chesapeake Bay.
Lobster Delights comes in Chunk Style, the elegance of lobster at a very affordable price.
These firm, succulent chunks of surimi seafood are infused in a mild lobster flavour and fully cooked for added convenience. Simply dip them into melted butter or add them to elegant main dishes, salads, sandwiches, and appetizers.

About Louis Kemp

Louis Kemp is part of the Trident Seafoods family of brands since 2006. The company controls every step in the making of the Louis Kemp surimi seafood products, from the harvesting of Alaska pollock by its own fishing boats, to processing at the state-of-the-art facility in Motley, Minnesota, all the way to your plate.
Louis Kemp continues to strengthen its tradition of excellence by using only the highest quality ingredients to create a full line of consistently superior products. The company is also committed to innovation in product development, consumer packaging, and seafood safety.
Source: Louis Kemp
[email protected]
www.seafood.media
Information of the company:
Address:
5303 Shilshole Avenue NW
City:
Seattle,
State/ZIP:
Washington (WA 98107)
Country:
United States
Phone:
+1 630-512-1745
Fax:
+1 630-512-1137
E-Mail:

[email protected]

More about:
Approval / Accreditation / Certified / Oversight by...