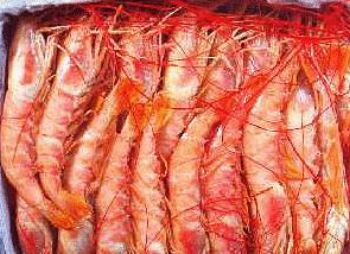 Patagonian squid, Pleoticus muelleri. (Photo: Stock File)
Shrimp exports continue to grow

(ARGENTINA, 7/27/2015)
Argentina exported 193,249 tonnes of seafood from January to June 2015, a figure which shows a decrease of 0.2 per cent over the same period of 2014, when 193,450 tonnes had been sent abroad.
According to statistics from the National Health and Food Quality Service (SENASA) in the first six months of this year 98,048 tonnes of fish were exported, 8.3 per cent less than in the same period of 2014 (106,921 tonnes).
A total of 95,201 tonnes of seafood was also exported, 10 per cent more than in the same period last year, when 86,529 tonnes had been sold abroad.
The major export records were those of squid (Illex argentinus), with 56,592 tonnes, representing a 0.3 per cent increase over the 56,394 tonnes exported from January to June 2014.
This exported product was followed by hake (Merluccius hubbsi), with 43,203 tonnes, 17.9 per cent less than during the first six months last year (52,622 tonnes), and shrimp (Pleoticus muelleri), with 34,376 tonnes, 39.3 per cent more than during the same period last year (24,669 tonnes).
Among the resources that increased their shipments abroad are stingray (Potamotrygon brachyura), whose sales grew by 88.8 per cent, changing from 3,313 tonnes during the January-June period in 2014 to 6,255 tonnes in the same period of 2015.
More hoki (Macruronus magellanicus) was also exported: from 5,950 to 7,650 tonnes (28.5 per cent), more weakfish (Cynoscion striatus), from 4,852 to 5,946 tonnes (22.5 per cent); and more kingklip (Genypterus blacodes), which changed from 901 to 1,128 tonnes (25.1 per cent).
The species that recorded declines when comparing the first six months of 2015 with those last year were:
Patagonian anchovy (Engraulis anchoita): 34 per cent (from 5,950 to 3,929 tonnes);
Patagonian scallop (Zygochlamys patagonica): 43.4 per cent (from 3,178 to 1,801 tonnes);
Croaker (Micropogonias furnieri): 27.4 per cent (from 11,978 to 8,703 tonnes).

By Analia Murias
[email protected]
www.seafood.media
Information of the company:
Address:
Av. Paseo Colón 367
City:
Capital Federal
State/ZIP:
Buenos Aires (C1063ACD)
Country:
Argentina
Phone:
+54 11 4121 5401
E-Mail:

[email protected]

More about: