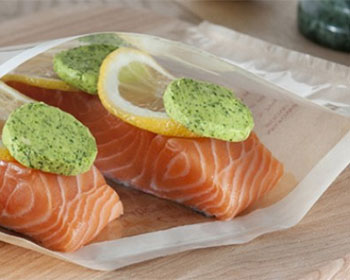 The Si-bag™ is a bag made from very-high-temperature-resistant film, which combines practicality with simplicity. (Photo Credit: Sirane)
New seafood packaging website offers solutions

(UNITED KINGDOM, 9/13/2013)
Sirane, a British food packaging design and manufacturing firm, has launched a new website devoted only to packaging solutions for the seafood industry which is estimated to generate USD 430 billion by 2018.
With the new site, called Thinking Seafood, it will be possible for those in the seafood industry to see the products that are pertaining to their business in a quick and efficient manner.

"We have a number of products that are perfect for seafood packaging – and this new website will allow people to find them easily. For example, our new barbecue bag is brilliant for seafood. The Sira-Cook Barbecue Bag is also ovenable – useful with the unreliable British climate – and allows a product with the sauce to be thrown on the barbecue. It's a simple solution, offering stunning taste", commented Jeremy Haydn-Davies, Sirane's sales director.

The new barbecue bag comes in a number of sizes and in two versions: standard and non-stick. The bag, which comes with a clear top panel to allow customers to see what's being cooked, can be heat-sealed.

A new machine, recently acquired by Sirane, has made it possible for the company to expand its range of absorbent liners by significantly speeding up and streamlining the production process. The machine will bring more flexibility to the range, since now almost any size or absorbency will be available.

Sirane MD, Simon Balderson, praised the wonders of the new Sea-Fresh liners and said: "The cold crate packed with seafood will remain cold and dry, optimising the condition and appearance – and in many cases the value or saleability - of the fish".
He went on to add that the liners are excellent for lining crates of fish, soaking up large amounts of water and fluid from the crates so that they arrive at their destination in a much better state.

He also remarked: "The machine has tremendous flexibility, and is very fast, which has helped us become very competitive. We can produce exactly what the customer wants at an attractive price. Not only that but we can offer extremely high levels of absorbency which are great for seafood."

Sirane has launched other products such as the Si-bag, somewhat similar in concept to vacuum-packing machines and very much used in molecular gastronomy and presumably much cheaper, which can be sealed becoming odour and leak proof and steam cooks any food in a matter of minutes.

Another product launched by the company is the Sira-Cook Smart-Release, a two-compartments bag suitable for microwaving which allows product and sauce to be kept separate. Seals will open at specific temperatures during cooking time to allow for food and sauce to infuse perfectly.


By Gabriela Raffaele
[email protected]
www.seafood.media
Information of the company:
Address:
European Development Centre, Stafford Park 6
City:
Telford
State/ZIP:
Shropshire, England (TF3 3AT)
Country:
United Kingdom
Phone:
+44 1952 230 055
E-Mail:

[email protected]

More about: