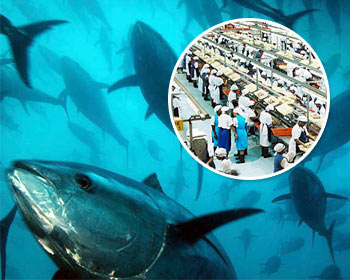 Tuna processing plant. (Photo: Tri Marine/FIS)
New fish licencing policy favours local investments

(SOLOMON ISLANDS, 4/16/2012)
The Parties to the Nauru Agreement (PNA) is optimistic about the Solomon Islands' new longline licensing policy and believes it will create 500 new jobs in Noro.

The licences require that fish caught in the country's waters be unloaded and processed there, thereby increasing employment through extra processing and handling jobs. The fish will then be exported, jumpstarting the country's foreign exchange earnings and improving its balance of payments.

"There has been a lot of discussions of late about how Solomon Islands can develop its tuna resources in a way that lands real economic benefits to Solomon Islanders," said Director of the Secretariat Dr Transform Aqorau. "These benefits must permeate in the way of jobs both offshore on vessels as general deckhand, engineers, first officers, navigators, fishing master and captain, to employment opportunities onshore in processing plants from sorting, cleaning, scraping, packing, weighing, labelling, and marketing."

The new licensing policy also allows for boats to unload their catch outside of Solomon Islands this year, subject to payment by the fishing boat of a penalty. This fish will not be inspected by officials from the Ministry of Fishing and Marine Resources, Island Business reports.

Boats which maximise their Solomon Islands landings may have priority in the future.

Tri Marine's National Fisheries Developments Limited (NFD) has been granted 50 longline licenses. Soltai and NFD currently employ over 1,000 Solomon Islanders.

The new licensing policy will allow Soltai to add a second shift to its processing operations and augment its exports of processed fish.

"The government's move will not only provide new jobs, but will also stimulate the creation of new businesses that will cater to the fishing boats and their crews, which will now be calling at Solomon Islands ports to buy food, supplies, fuel, bait, make repairs, and enjoy Solomon Islands hospitality," said Joe Hamby, Tri Marine's Group Managing Director.

Meanwhile, Prime Minister Gordon Darcy Lilo sealed a Service Level Agreement (SLA) with Forum Fisheries Agency (FFA) Director General Su'a Tanielu this week, defining the tasks and activities FFA will do with the Ministry of Fisheries and Marine Resources with over the next three years, Solomon Star reports.
This assistance will primarily involve tuna management and practical advice on stocks within the Exclusive Economic Zone (EEZ).

Lilo said this agreement will form a new basis in leadership and help ensure better tuna management and monitoring.

"This is to ensure that benefits from our tuna resources are well reflected in the way we deliver on the services to our country Solomon Islands," he said.
By Natalia Real
[email protected]
www.seafood.media
Information of the company:
Address:
PNA Office PO Box 3992
City:
Majuro
State/ZIP:
(MH 96960)
Country:
Marshall Islands
Phone:
+692 625 7626
Fax:
+692 625 7628
More about: