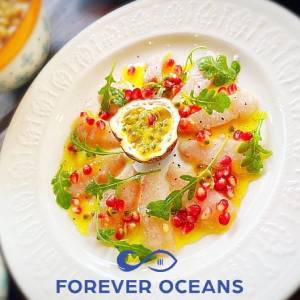 Kanpachi is rich yet light, with a buttery texture that's delicious no matter how it's prepared.
The New Era in Mariculture is Now on The Tables of Great U.S. Restaurants

(UNITED STATES, 10/7/2022)
U.S. restaurants are already menuing high-quality kanpachi from the first commercial harvest by Forever Oceans. Grown in offshore enclosures along the west coast of Panama, the milestone harvest is the first of many to come from enclosures in Indonesia, Brazil, and Panama.
Chef Woody Isaac, the executive chef at Virginia's Denim & Pearls restaurant, was an early believer in Forever Oceans™ Kanpachi. "The Kanpachi fish from Forever Oceans is absolutely amazing. I am so excited to feature this fish as a special and on our new menu. Our team and our customers love the concept and vision of this company, and we appreciate the vision they have for bringing a delicious and versatile option from the deep ocean to our tables. Their fish is some of the best we have ever had, plus it is responsibly raised and packed with nutrients. I think Forever Oceans is setting a trend for the future of the fishing industry."
From the recent commercial harvest off the coast of Panama, Forever Oceans™ Kanpachi.
The Forever Oceans journey is driven by the company's vision of helping to rejuvenate the oceans by raising natural protein in a way that improves the environment. Founded by Lockheed Martin engineers who helped pioneer the company's unique approach to aquaculture, remotely monitoring the health of fish in their natural environment far from shore is just one component of what differentiates Forever Oceans.
Forever Oceans Kanpachi is sustainably delicious and versatile for menus.
"Our message of sustainably delicious seafood resonates with consumers more each day," says Monica San Miguel, Forever Oceans Chief Marketing Officer. "Seafood consumption has reached record levels because of its functional benefits. Today more than 70% of consumers say they want to buy foods that have been sustainably raised according to Datassential."
Mark Allison.
"The more fish the merrier," says Mark Allison, Forever Oceans Executive Chef. "Every restaurant and retailer we talk with is impressed with the flavor and versatility of our Kanpachi. It has an exceptional flavor and can be used for many menu applications." Mark has been sharing the story of Forever Oceans™ Kanpachi across the U.S. at culinary immersion sessions attended by top chefs, seafood category buyers and distributors.
The company's culinary board, now with more than 50 top chef endorsers, has been sharing the story as well for more than two years with friends in the industry and through the company's Ocean-Raised Podcast led by Chef Rick Moonen.
Available as fresh or frozen fillets now through top seafood distributors, restaurant and supermarket operators can contact Guy Lott, Forever Oceans Vice-President of Global Sales, for the distributor nearest you. "We've had an overwhelming response from restaurant operators that has primed the pump for distributors interested in offering our product through the supply chain," says Guy.
Kanpachi from the company's first commercial harvest at Warrenton, VA's Denim & Pearls restaurant.
About Forever Oceans
Forever Oceans was launched as a spin-off of the Lockheed Martin Aquaculture Line of Business in 2014. Forever Oceans now combines leading technology with advanced biology, a comprehensive training program, and more, to offer investors the opportunity to license an end-to-end farm solution.

Forever Oceans has spent years developing an innovative way to raise large numbers of healthy and delicious fish in the deep ocean, where water is pristine and protected.
The company aspiration is to grow a farm base in the warm water regions of the world. Implementing a sophisticated and environmentally responsible aquafarm requires substantial investment, but it can be highly profitable. Forever Oceans is very selective about its licensing partners that operate Forever Oceans farms.
Source: Forever Oceans
[email protected]
www.seafood.media
Information of the company:
Address:
800 Washington Street, SW, Suite 150
City:
Blacksburg
State/ZIP:
Virginia (VA 24061)
Country:
United States
E-Mail:

[email protected]

More about: