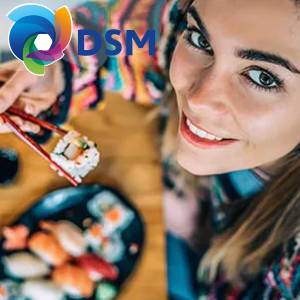 Maxavor® Fish YE enables producers to emulate the body, mouthfeel and taste of distinct fish varieties.
Build Authentic Fish Taste With 100% Vegan and Natural Fish Flavor

(NETHERLANDS, 7/8/2022)
DSM has recently launched vegan fish flavors with innovative and first-in-the-market attributes that food producers are looking for.
Plant-based meat alternatives have transformed grocery store shelves and restaurant menus alike with a broad range of meatless options that appeal to consumer interest in a healthier, more sustainable diet. Now, vegan fish products are catching this wave. While the market is in its infancy – with annual sales of USD 10 million - the potential is compelling for manufacturers that can skillfully formulate authentic, tasty and enticing vegan seafood products.
Answering today's growing appetite for vegan fish flavors, DSM's range of Maxavor® Fish YE process flavors is natural, sustainable and meets vegan, Kosher and Halal requirements, making it suitable for a range of label claims.
These products also need to deliver on texture and succulence, nutrition, and above all, fantastic taste. Similarly, producers of fish-based and plant-based seafood options are tasked with achieving authentic, clean seafood taste that features the unique mouthfeel and body associated with fresh fish, while also managing sodium levels.

Without question, today's more sophisticated and discerning consumers will be seeking vegan seafood products that check all the right boxes.

An opportunity to bring more to the table

In order to shore up all of these requirements, manufacturers need a toolbox that includes on-point fish flavors that can deliver on the taste and sensory properties of traditional fish products. However, most commercially available fish flavors are produced by processing fish or crustacean parts, and as a result, they don't meet vegetarian criteria and are not fully sustainable, either.
Derived from algal oil, the Maxavor® Fish YE solution helps to build authentic fish flavors in plant-based fish alternative products, including vegetarian fish nuggets and vegan fish sauce.

Middle block flavors – where the delicate body and mouthfeel of fish needs to be replicated – have proven particularly challenging to get right. And so-called top notes, which can bring fish flavor to a range of products, are often natural, Kosher or Halal, but very rarely combine all three.

Genuine fish flavors, naturally

The flavor solution is used across a range of applications including vegan fish ready meals, vegan canned fish, vegan flavor blends and more.
Maxavor® Fish YE are new middle block fish flavors that are natural, vegan and allergen-free, plus Kosher and Halal certified - making it truly unique and fully declarable. Importantly, it offers manufacturers two distinct profiles – rich, oily dark fish and light, fleshy white fish – enabling them to mimic the distinctive body and mouthfeel of familiar fish varieties.
Maxavor® Fish YE can be utilized across a broad range of fish-based and plant-based seafood products – from battered vegan fish nuggets to fish cakes to vegan fish sauces – giving manufacturers a flexible tool that delivers the authentic flavors consumers demand.

DSM technical application experts help customers understand the key nuances to developing fish-based and plant-based seafood products and guide them towards the ideal formulation for exciting new offerings

Maxavor® Fish YE is derived from a sustainable algal oil base. This and other key raw material selection enable transparent product claims for customers, and it also speaks to DSM's own commitment to developing ingredients that further enable the creation of sustainable, plant-based products with a clean label.

As the tide turns toward plant-based seafood, manufacturers face a booming opportunity to deliver authentic taste, clean flavor and desirable texture in a range of new products - with the right tools in their toolbox.
About DSM

Koninklijke DSM N.V. (Royal DSM, commonly known as DSM), is a Dutch multinational corporation active in the fields of health, nutrition and materials. Headquartered in Heerlen, at the end of 2017 DSM employed 21,054 people in approximately 50 countries.

DSM's five business groups are clustered according to product and market combinations, with the business group directors reporting directly to the Managing Board. Since 2015, DSM's activities have been grouped into three clusters: Nutrition, Materials and Innovation Center.

Source: DSM

[email protected]
www.seafood.media
Information of the company:
Address:
Het Overloon 1
City:
Heerlen
State/ZIP:
(6411 TE)
Country:
Netherlands
Phone:
+31 (0)45 578 2421
Fax:
+31 (0)45 578 2230
More about:
Approval / Accreditation / Certified / Oversight by...