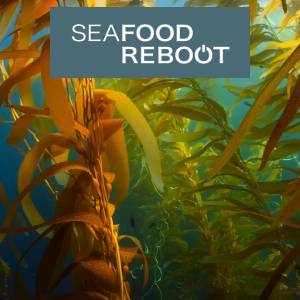 Food-changers are surfing the plant-based wave.
Foodtech Startup Completes a EUR 3,2 million Pre-seed Round To Launch New Plant-Based Fish

(FRANCE, 5/16/2022)
Less than six months after it was initially founded, the Seafood Reboot Foodtech startup completes a EUR 3,2 million pre-seed round that will help the young company finalize its R&D works and prepare the go-to market of its first-generation plant-based alternative seafood products.
Isabelle
Chambaud.
Seafood Reboot surfs the good wave with a financing round of just over EUR 3,2 million led by Demeter Partners together with Senseii Ventures, Founders Future Good, and Beyond Impact. A decisive step to prepare the go-to market of a first generation of natural, delicious, and healthy plant-based seafood alternatives.
This round will help accelerate the structuring and development of this young company, notably the construction of a first pilot production facility scheduled to be operational in S1-2023. It will also strengthen the resources allowed to the dedicated Innovation/R&D team already at work.
Isabelle Chambaud, PhD., recently joined to take the leadership of this department as R&D/Innovation Director after just under twenty years spent with the Danone group, where she held various R&D operational management positions, including recently coordinating the innovation strategy and related projects performance at the European level.
Francois Blum.
Founded by Francois Blum and Simon Ferniot in October 2021, Seafood Reboot sets an ambitious goal to become a leader in the necessary plant-based food transition. For everyone. Meat and dairy substitutes have flourished on the shelves and our plates over the past few years, but plant-based seafood remains a vastly untapped emerging segment.
"In the light of the climate change emergency and the rapid deterioration of all forms of marine life, the public becomes more and more aware and thus conscious of the need for a change in our diet habits", explain the two co-founders.
Seafood Reboot is dedicated to playing a major part in this (r)evolution by creating and marketing a new generation of plant-based seafood products made from algae ingredients and available to all consumers with unequaled taste, texture, and nutritional profile.
Simon Ferniot.
The founders said: "It is now well established that our unfortunate western eating habits have massive consequences for our health but also our planet and that our oceans are among the most fragile hence vulnerable environments".
"At Seafood Reboot, we believe that innovation should help bring forward more sustainable and natural food alternatives and that innovation should be inspired by nature". ​
"As a team, we're all about creating, producing, and delivering the next generation of delicious plant-based seafood (comprising notably ingredients from algae origin) so that each and every one of us can contribute to a better world in a positive way while enjoying a delicious meal".

About Seafood Reboot
Paris-based Seafood Reboot is a Foodtech Startup born in October 2021 when François Blum (Executive Chairman) and Simon Ferniot (CEO) met with Alvyn Severien , the founder of Algama , an innovation startup pioneer in the valorization of algae for food applications.
Convinced that the infinite potential and pivotal role of the oceans in our ecosystems are a source of unlimited creativity, Seafood Reboot develops, with the help of cutting-edge expertise on algae and seaweed and a strong innovation capacity, the next generation of plant-based seafood alternatives which will be delicious, natural and healthy.
The project was born when two experienced and enthusiastic entrepreneurs met with Algama, a pioneer in the valorization of seaweed for food applications.
Source: Seafood Reboot
[email protected]
www.seafood.media
Information of the company: