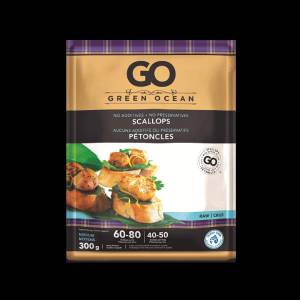 Green Ocean,freshest tasting seafood.
A Passion for Seafood

(CANADA, 9/11/2021)
Green Ocean, in its very name, suggests a vested interest in protecting the health and future of our supply sources globally. The company values not only quality, but also a responsible approach to its products. This is why Green Ocean consciously and actively sources all its products from an accredited sustainable supply.

Green Ocean has also taken this one step further by co-branding many of its products to include two levels of sustainability – they have an MSC/Ocean Wise Wild Fish program from Iceland and an ASC/Ocean Wise Shrimp program from Vietnam.

Green Ocean travels around the world in search of quality seafood and sustainable fisheries to partner with.
All Green Ocean's state of the art processing plants are certified under the British Retail Consortium and all plants have accredited sustainable seafood sourcing practices and strict policies as it relates to safe labour and anti-child and slave labour practices.
The company sources seafood from an Icelandic fishery that was officially certified under the Icelandic Responsible Fisheries program in 2013. This is truly a transparent fisheries management program, with a focus on responsible fisheries management, to sustainably harvest while protecting the ecosystem. These products are certified sustainable seafood by Ocean Wise and the Marine Stewardship Council.
Green Ocean Wild Argentina Pink Shrimp, also known as "Patagonian Reds" are caught at sea in the deep, cold waters of the South West Atlantic Ocean.
Green Ocean Organic Shrimp are raised in their natural habitat, the vital mangrove forest ecosystem of Southern Vietnam. The mangroves naturally provide food, shade and shelter to support the growth of healthy, organic shrimp without the need for feed, antibiotics, hormones, phosphates or preservatives. Green Ocean Organic Shrimp are caught by environmentally responsible fisheries that meet Control Union's holistic standards and earn an Ocean Wise recommendation.
Green Ocean Seafood Wild catches are responsibly harvested.
Green Ocean Wild Argentina Pink Shrimp, also known as "Patagonian Reds" are wild-caught at sea in the deep, cold waters of the South West Atlantic Ocean, using responsible harvesting practices.The fishery GO Seafood has partnered with is strictly managed by the Argentinian Government. Prior to each catch season, the government measures the Shrimp Stock Biomass to ensure catch levels are sustainable for generations to come.

Green Ocean always strives to stand out from the crowd, and as part of being different, they take a different approach to the production processes, especially when it comes to methods and expectations for Food Safety. This is why all of the company's facilities are inspected by accredited third-party auditors on an annual basis, and why Green Ocean's procurement team personally visit these facilities annually as well, to ensure that Green Ocean's highest standards are upheld by the company's partners in China and across the world.

Just like any of the other partners Green Ocean sources from, the company's team works to find the most skilled expertise to produce its products worldwide. GO's partner in China not only has the skilled labour, but has also implemented processes that guarantee precision and safety with every Green Ocean product.
Green Ocean takes pride in sourcing a wide variety of products that are sustainably sourced whether it be wild caught species and/or aquaculture species.
About Green Ocean

The Green Ocean brand was founded in 2007, but seafood was in the founder's blood long before that. Glenn's great-grandfather – "Pop" – was a fisherman on the original Blue Nose back in the 1920s under Skipper Angus Walters. Needless to say, there is a long history between the Fishery and the Grandy's of Garnish, Newfoundland.

As a veteran of the Seafood Industry, Glenn has spent the past 34 years working in various areas of the seafood sector. Traveling the globe for the past 14 years, Glenn has developed a vast knowledge of the global seafood industry – an industry that, as Glenn knows from personal experience, has changed dramatically even just in the past 5 years.

In 2017, the Green Ocean brand was acquired by Tree of Life Canada and as part of the acquisition, Glenn joined Tree of Life to head up their seafood division. Since then, the Green Ocean brand has expanded across Canada and has launched its Organic & Wild Shrimp programs, as well as a Wild Icelandic Fish program, with many more exciting seafood ventures to come.

Source: Green Ocean
[email protected]
www.seafood.media