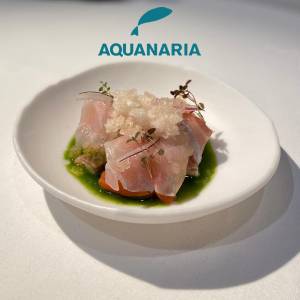 Aquanaria's Seabass is the sustainable alternative to wild Seabass.
The Sustainable Alternative to Wild Seabass

(SPAIN, 5/28/2021)
Aquanaria Seabass is a product of outstanding gastronomic quality, with four differentiating features: big size, firm texture, intense flavor and 100% free from viable parasites.

From traditional to more cutting-edge cuisine, worldwide renowned Chefs demand Aquanaria's Seabass due to these four features.

A gorgeous and treasured fish, Seabass will never stop amazing us. Regardless if you fish it, eat it or breed it, everyone speaks wonders about this astonishing fish.
Aquanaria is a p
Exclusively in Aquanaria's facilities, located in the broad Atlantic Ocean, the Seabass finds the best conditions for breeding.

Through a slow growth process of almost 4 years, Aquanaria has accomplish a fish which fully meets the specifications of the most demanding chefs. Therefore the company can supply the finest quality fish to the best restaurants all over the world where chefs can provide a staggering experiences for their diners.
An Aquanaria Seabass takes up to 4 years to reach an average weight of 2 kg, almost half of what it would take a wild one.
Aquanaria Seabass is quite a versatile product. Regardless of whether your culinary specialty is traditional, Japanese, Mediterranean or fusion cuisine, there are countless dishes you can cook with it. Steamed, oven-roasted, grilled, marinated, in ceviche or sashimi; the limit is your imagination! Your creations will turn out mouth-watering!
Aquanaria Seabass is exactly the same species as wild Seabass, Dicentrarchus labrax, they share morphology: silver body, shiny scales and well-formed fins.
Aquanaria is a pioneer in the Spanish marine aquaculture sector. Its origin dates back to 1973, and in 1989 it moved to the Canary Islands, a paradise for marine biodiversity, looking for the ideal ecosystem for seabass: the clean, beaten and oxygenated waters of the Atlantic Ocean.

Aquanaria, whose product is served on the tables of the best restaurants around the world, is presented as a sustainable alternative to wild seabass whose fishery is in decline throughout Europe.
Aquanaria is GLOBAL GAP certified: animal welfare and environmentally friendly.
About Aquanaria
Gustavo Larrazábal.
Aquanaria's story is closely related to Gustavo Larrazábal's life; he was an untiring entrepreneur who introduced himself over 3 decades ago in the aquaculture sector with a sole purpose: to achieve the breeding of big size Seabass with an exceptional gastronomic quality.

Aquanaria's history goes back to 1973. A long journey till present day which has provided the company with the needed experience to become the leader in the production of Seabass destined to haute cuisine.
Aquanaria exports close to 60% of its production to countries of 5 continents. Within 48-hours, Aquanaria Seabass reaches the best dinner tables all over the world.

The company is established in the Canary Islands.
Source: Aquanaria

[email protected]
www.seafood.media
Information of the company:
| | |
| --- | --- |
| Address: | Bentejui S/N - Castillo del Romeral, San Bartolome de Tirajana |
| City: | Las Palmas |
| State/ZIP: | Islas Canarias (35107) |
| Country: | Spain |
| Phone: | +34 942-342-001 |
| Fax: | +34 942-378-589 |